These farro recipes are full of the goodness of the grain and will sure to please your tastebuds!
From soups to salads, there's something for everyone.
Farro is a popular alternative to wheat in many cultures.
It's rich, earthy flavor is a great way to add healthy carbohydrate to your diet.
It has a slightly chewy texture and nutty flavor that's perfect for adding depth to many dishes.
And yes, it's delicious with pasta.
But farro is also fantastic in salads and veggie bowls!
So, check out these farro recipes below and be sure to try them all.
They're scrumptious no matter which way you go!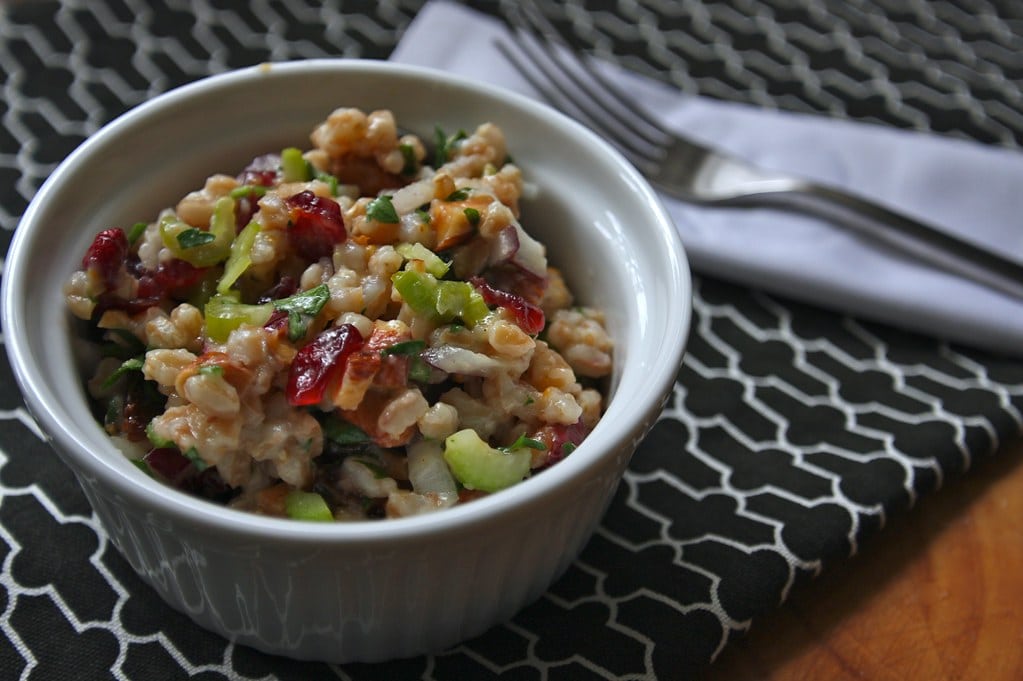 This kale and farro salad with almonds and pomegranate is a delicious way to ease into the season of spring.
The ingredients are simple but come together in just 30 minutes.
It's a well-balanced dish that pairs fresh greens, creamy farro, sweet pomegranates, and crunchy almonds.
It's an easy side dish you can enjoy at any time of year.
This simple salad is definitely the perfect summer dish.
It's packed with ingredients that are all good for you, including feta cheese, baby spinach, and red onion.
You'll also use Greek yogurt to make it creamy.
And while this salad is fast and easy to whip up, don't forget to add a drizzle of olive oil and lemon juice.
Voila! Your mouth will be on fire for sure!
This is the perfect dish if you're looking for a healthy and hearty meal.
The farro, grilled zucchini, and edamame are bursting with color and flavor.
You can also add in a handful of other fresh vegetables like cherry tomatoes or pickled onions.
Serve it on a bed of fluffy cooked quinoa for an extra special side dish.
This dish is a bountiful bowl of hearty goodness.
There's farro, figs, kale, and goat cheese.
You're also given some healthy fats from the avocados.
A dollop of hummus makes this meal even more indulgent!
This strawberry and caprese salad is the perfect dish for a sunny summer day.
It's bright, zesty, and full of bright fruit flavors.
The combination of sweet strawberries and salty capers is mouth-wateringly delicious!
The farro adds a touch of texture that really gives this salad some structure.
It's so good you'll want to serve it again and again.
This recipe is an excellent way to introduce everyone to farro.
It's the perfect base for a hearty soup full of hearty veggie and meaty ingredients.
I love that this soup has a tender texture and bright flavor.
Better yet, it's vegan-friendly!
The best part about this recipe is that you can prepare it ahead of time and pop it in the fridge when you need a quick dinner.
Here's another hearty and filling soup that has plenty of flavor.
It's a dreamy blend of fresh herbs, garlic, tomatoes, and hearty farro.
Serve with crusty bread for dipping or simply enjoy it by itself.
True to its name, it will leave you feeling satisfied.
I'm all about simple soups and this one is no exception.
It's got chickpeas, farro, carrots, celery, and leeks to make it filling.
The veggies are simmered with broth for a rich flavor that melds into the soup perfectly.
It's also topped with a cream cheese-based sauce for added richness.
One bite of this creamy stovetop parmesan farro, and you'll never go back to that slow cooker recipe again.
This pasta dish is loaded with so much flavor, it's hard not to fall in love with it.
It has a bright zing from lemon juice and aromatic spices like garlic and oregano.
It's also surprisingly easy to make, thanks to the use of store-bought ingredients.
The best salads always start with the ingredients.
So, why not start with the ingredients that make the salad good?
This Italian farro salad is loaded with everything you love about salads – crunchy veggies, rich tomatoes, salty feta, and creamy dressing.
And it's ready in just 30 minutes!
This hearty soup is full of vegetables, so it's the perfect winter meal.
It has a bright orange color that goes with any holiday table.
Plus, I think it looks like something out of a fairy tale!
The best part?
It takes only 10 minutes to make and tastes even better.
This salad is a perfect side dish for any summer meal.
The bright color, light texture, and tangy flavors are sure to perk up your taste buds!
Made with roasted farro, fresh veggies, sun-dried tomatoes, and olives, this salad is sure to be a hit in your home.
Enjoy this delicious recipe as a standalone side dish or serve it over grilled chicken for a hearty meal.
This zuppa di farro is the perfect example of how to make a classic dish incredibly delicious.
It's rich and creamy, with a lovely nutty flavor from the farro and an earthy finish from the broth.
The best part?
It takes only 30 minutes to cook!
Risotto is a wonderful and easy way to jazz up an everyday dish.
This simple recipe is all about the flavor, adding a lovely touch of herbs and spices to the creamy rice.
The farro adds extra texture and flavors, while the chicken adds moisture and keeps things light.
Serve with a side of roasted vegetables for a filling meal that's ideal for chilly nights.
This hearty garlicky farro is simple to make and full of flavor.
It's a great way to use up leftover garlic bread or crackers, or it can be served as a side dish.
This farro risotto is surprisingly the perfect vegan meal.
It's brimming with flavors and nutrients to keep you full without weighing you down.
The aromatic butternut squash pairs perfectly with the earthy flavor of the farro making it a satisfying meal.
It all comes together in a flash, so make this dish today!
If you're looking for a way to jazz up your next dinner party, this recipe is the one to choose.
Golden carrots are perfect on their own, but they take on a whole new life when paired with bright and fresh farro.
They're so tasty that everyone will want seconds!
This recipe is great because it's simple and has a few optional ingredients.
Just toss in the carrots, farro, olive oil, lemon juice, salt and pepper into a food processor.
Then mix everything together until it comes out as fine crumbs.
Drizzle some olive oil over all of your ingredients before baking for about 40 minutes.
This peach and farro salad is a perfect summer dish for those who love fresh produce.
The fruit is juicy, sweet, and perfectly balanced.
There's the zesty acidity from the orange juice, but it's also sweetened with honey and red wine vinegar.
The farro adds more depth of flavor to counterbalance the sweetness of this dish.
It also gives it that extra texture that makes every bite so satisfying!
If risotto is too much work for you, this recipe is a great alternative.
It's similar to the one above but uses farro instead of rice.
The result is a creamy, saucy dish with a hint of sweetness from the poached egg.
It's also loaded with protein so it makes a fantastic meal on its own or as an accompaniment to other dishes.
This mushroom and farro risotto is a healthy, satisfying dish that will become your new favorite meal.
The earthy mushrooms are the perfect complement to the soft squash.
And the coconut-infused farro adds a touch of sweetness to balance out all those flavors.
If you're looking for a light, healthy way to celebrate summertime, this recipe is just what you need!
Tabbouleh is typically made with bulgur, but farro takes it to a whole new level.
It's an excellent source of fiber and protein.
Plus, the nutty flavor perfectly complements the garlic and mint in this recipe.
This is non-traditional tabbouleh that you can feel good about eating (and enjoying!).
This casserole will be a must-make in your home this winter.
It's packed with dried farro and ground turkey sausage, kale, sweet potatoes, and loads of cheese.
It's also a breeze to make.
Just toss everything in the skillet and let it cook for about 30 minutes.
Serve warm with lots of crusty bread for dipping!
This hearty vegan farro bowl is brimming with nutrition and flavor!
To start, the dish features a base of brown rice.
Then, you'll add in a zingy blend of garlic, lemon juice, shallots, and fresh parsley.
The shiitakes provide an earthy flavor that pairs perfectly with the farro.
And the broccoli adds a touch of sweetness to round out this dish.
It's a simple recipe that offers plenty of satisfying flavors!
If you're looking for a way to revamp your dinner routine, look no further than this creamy farro with spinach, garlic and asiago cheese.
This dish is filled with nutrition thanks to the whole grains and lean protein from the farro.
It has a hint of sweetness from the spinach and garlic, giving it an impressive body.
The asiago cheese adds a delicious salty flavor that works so well with this dish's creamy goodness.
What can I say about this salad?
How much do I love it?
It's soft, fluffy, creamy, and has a wonderfully nutty, earthy taste.
You may not want to eat this raw, but it's so tasty that you won't even care.
The fennel seeds give it a slight crunch that is perfect for taking the edge off.
It's also very simple to make.
You just chop everything up and toss it together in a bowl.
Then, cook your farro in salted water until tender.
Serve with lots of fresh herbs.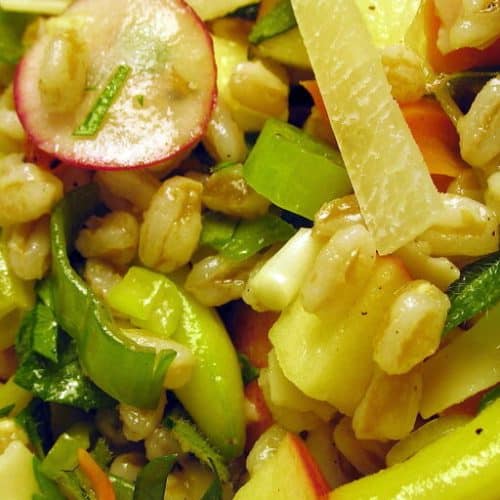 Savory Garlic Farro
This hearty garlicky farro is simple to make and full of flavor. It's a great way to use up leftover garlic bread or crackers, or it can be served as a side dish.
Ingredients
1

cup

farro perlato

1

garlic clove

smashed

3

cups

chicken broth

2

tablespoons

olive oil
Instructions
In a medium sauce pan over medium heat, warm the olive oil and garlic for 2 minutes. Add the farro, and toast it in the olive oil, tossing frequently, for about 5 minutes, or until it begins to turn brown. Turn up the heat to high, add the chicken broth all at once, and bring it to a boil.

When it comes to a hard boil, immediately place a tight-fitting lid on the pot and lower the heat to medium (or whatever keeps it at a light boil). After simmering for 18 minutes, turn off the heat and let the farro remain for an additional 5 minutes before removing the lid.

With a fork, fluff the farro, take out the garlic, and serve it hot.
Video
Nutrition
Calories:
499
kcal
Carbohydrates:
80
g
Protein:
12
g
Fat:
16
g
Saturated Fat:
2
g
Polyunsaturated Fat:
2
g
Monounsaturated Fat:
10
g
Cholesterol:
7
mg
Sodium:
1317
mg
Potassium:
350
mg
Fiber:
16
g
Sugar:
2
g
Vitamin A:
29
IU
Vitamin C:
0.5
mg
Calcium:
46
mg
Iron:
3
mg
---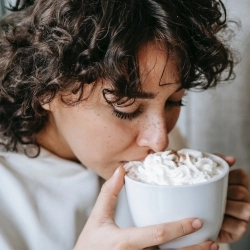 Latest posts by Grace Lambert
(see all)