Italian beef egg roll is a fun spin on the Chicago classic!
It's hearty with a crispy wrapper that holds in tender beef, savory spices, and melt-in-your-mouth cheese.
Combine the crispy outside of an egg roll with an outstanding tender inside and you get an appetizer, perfect for sharing and utterly crave-able.
Serve jumbo-sized Italian beef egg rolls at your next event, and we guarantee it will be a hit.
The beef Egg rolls are a deconstructed version of an Italian beef sandwich.
They'll come straight out of the deep fryer with a super crunchy exterior and piping hot inside full of flavor.
We've included a recipe to help keep those in the restaurant at bay.
Let's get into it!
How to Make Italian Beef Egg Roll
If you love Italian food, these egg rolls will be your favorite!
They're not easy to make but the mouth-watering result is worth it.
The filling for these Italian Beef Egg Rolls is similar to what you would put in your sandwiches at home.
Use sliced ground beef, sweet peppers, mozzarella cheese, and a few spices.
Ingredients
●2 pounds of ground beef
●One package of Italian Slow Cookers Pot Roast Seasoning Mix
●1/4 cup water
●1 (16-ounce) jar hot or sliced pepperoncini peppers, drained, 4 to 6 reserved for garnish
●16 egg roll wrappers
●Four leaves of spinach finely shredded
●One teaspoon salt
●One teaspoon of ground ginger
●Two tablespoon sherry
●One egg, beaten
●Vegetable oil for frying
●½ cup mozzarella cheese
Directions
1.Preheat the oven to 375 degrees.
2.Brown ground beef in a large skillet and drain any excess grease.
Add onions, spinach, and garlic and cook until they soften.
Season with black pepper and Italian seasoning.
3.Remove from heat and stir in mozzarella cheese.
Allow mixture to cool for about 10 minutes.
4.Spoon a heaping tablespoon of filling into the center of each egg roll wrapper.
Fold top corner over filling and roll tightly to opposite corner.
Wet the edges of another corner with a beaten egg and press to seal.
Repeat with remaining wrappers and filling.
5.Heat oil in a deep skillet or deep fryer to 375°F. Fry egg rolls, a few at a time, occasionally turning until golden brown, for about 3-5 minutes per batch.
6.Drain on paper towels and serve with reserved pepperoncini peppers as garnish
What to Best Serve Along With Italian Beef Egg Rolls
While eggs rolls are amazing on their own, these options are great accompaniments to serve along.
●Spinach Salad with Sun-Dried Tomatoes and Walnuts
Tender spinach leaves, sweet sun-dried tomatoes, crunchy walnuts, and creamy gorgonzola cheese top this easy salad.
The dressing gets its zing from garlic, shallots, and balsamic vinegar.
It's heavenly when served along with Italian beef egg rolls.
●Italian Roasted Vegetables
A delicious assortment of vegetables flavored with Italian herbs – what could be better?
It's a roasted vegetable recipe that is easy to make and perfect for your next family meal or party.
What makes it more appealing is a combo with Italian beef egg rolls.
●Easy No-Knead Focaccia Bread
It's an easy no-knead focaccia bread is topped with olive oil, rosemary, and sea salt for simple but flavorful bread that's perfect for dipping in olive oil or serving alongside the delicious Italian beef egg roll.
●Marinara sauce
Serve your egg roll with some marinara sauce for dipping.
It's perfect for dunking, but if you want to be more authentic, have some giardiniera for eating alongside!
Tips and Variations
●If you want your egg rolls to be taller, leave a small amount of dough at the top and add more when you fold it in half.
When longer, they will stick together more while frying.
●Substitute ground beef for ground chicken or turkey (or vegetarian).
●If you want it crispy, include steamed shredded cabbage and carrots in the filling.
●Use calzones instead of wrapping them in egg roll wrappers.
You'll need more cheese and some eggs to keep the pastry dough from falling apart if you do this.
●For that extra crunch, deep fry these egg rolls.
If not, bake them in the oven.
●If you would like to add more veggies, finely chopped mushrooms or shredded carrots would be welcome additions.
How to Store Italian beef egg rolls
How to Refrigerate
If you have leftover fried or baked beef egg rolls, refrigerate them immediately.
Place them on a plate and cover with plastic wrap, so they don't dry out then put the rolls in an airtight container and place in the fridge.
If greasy, place the egg rolls in a container lined with paper towels to soak up any excess oil.
How to Freeze
To freeze beef egg rolls, wrap each egg roll individually in plastic wrap, then place them in a freezer-safe Ziploc bag.
Otherwise, use a freezer-safe Tupperware container with a lid to store the egg rolls.
How to reheat
The key to reheating the egg rolls is to make sure they don't get too hot and steamy.
●To reheat in the microwave: Place a stack of about four egg rolls on a microwave-safe plate and cover with a damp paper towel.
Heat for about 30 seconds until heated, then carefully remove from the microwave.
Allow to cool for about 1 minute, then serve immediately.
●To reheat in the oven: Preheat your oven to 350 degrees F; arrange egg rolls in a single layer on a baking sheet and bake for 3-4 minutes, flipping halfway through, until warm and crisp.
Serve immediately.
●To reheat on the stovetop: Add 1-2 tablespoons of oil or butter in a large skillet.
Once hot, add egg rolls in a single layer, being careful not to overcrowd them (work in batches if needed).
Fry for 2-3 minutes per side until heated through and crisp.
Serve immediately.
Recipes You Can Make With Italian Beef Egg Rolls Leftovers
There are exciting ways to make use of leftover beef egg rolls.
●Stuffed Baked Potato- Take a baked potato and cut it lengthwise.
Scoop out the insides, leaving about ¼ inch around the edges and bottom intact.
Chop up the scooped-out potato with the fillings, then bake at 400 F for 25-30 minutes until golden brown.
●Beef Egg Roll Soup- This recipe takes less time than cooking your beef egg rolls.
You can even use frozen beef egg rolls if you don't have leftovers!
●Chicken Egg Rolls– The chicken filling can be used to make other types of Chinese dumplings.
Just substitute the shrimp or pork with chicken and adjust the seasoning to taste before wrapping.
Health Benefits
●Eating eggs gives choline which helps the body metabolize fat and maintain healthy levels of neurotransmitters.
Furthermore, it is helpful for those who want to maintain brain function and memory.
●Eggs have protein, which is essential for building muscular bodies, maintaining muscle mass, feeling full, and maintaining energy levels.
●Spinach is a good source of folate for pregnant women, who need an adequate supply of this vitamin to ensure the fetus's brain and spinal cord develop properly during pregnancy.
●Including spinach in your meal increases antioxidants that can help lower inflammation, reduce oxidative stress, and prevent chronic diseases like heart disease, diabetes, and cancer.
Conclusion
We hope that this has opened your eyes to the wonders of the egg roll world.
Try this recipe out if you've ever had a craving for the best ever egg rolls and desire something delicious to fill your stomach.
We promise we won't regret it.
Italian beef egg roll is a nice change of pace from traditional egg rolls that are fantastic appetizers for family dinners and holiday parties.
They're small enough to avoid filling guests up too much but hearty enough to be satisfying all on their own.
Once you've tried them, you may make them again and again!
FAQs
How do I prevent Italian beef egg rolls from becoming soggy?
To avoid sogginess in your egg rolls, ensure you drain all the liquid and place them on a paper towel.
Moreover, do not over-stuff them, and keep the filling moist but not wet.
If there's too much filling, the wrapper gets soggy quickly.
Why do Italian beef egg rolls become soggy?
If you don't heat your oil correctly, it soaks into the Italian beef egg rolls, becoming greasy.
Ensure the oil is at 350 degrees before cooking.
On the other hand, it will burn the outer and undercook the inner when you overheat.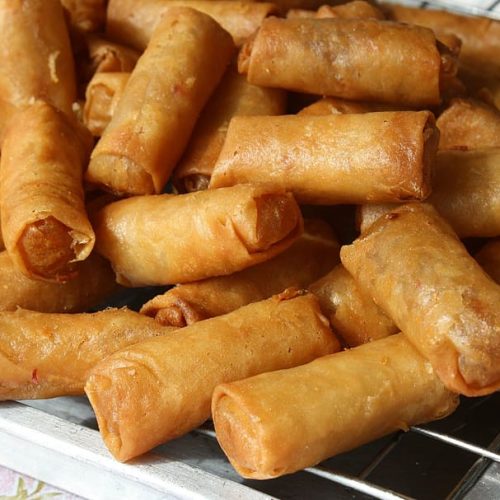 Crispy Baked Italian Beef Egg Rolls
The beef Egg rolls are a deconstructed version of an Italian beef sandwich. Combine the crispy outside of an egg roll with an outstanding tender inside and you get an appetizer, perfect for sharing and utterly crave-able.
Ingredients
2

pounds

ground beef

1

package

Seasoning Mix

1/4

cup

water

1

jar sliced

pepperoncini peppers

16

egg roll

wrappers

4

leaves finely shredded

spinach

1

teaspoon

salt

1

teaspoon ground

ginger

2

tablespoon

sherry

1

beaten

egg

Vegetable oil

½

cup

mozzarella cheese
Instructions
Preheat the oven to 375 degrees.

Brown ground beef in a large skillet and drain any excess grease.

Add onions, spinach, and garlic and cook until they soften.

Season with black pepper and Italian seasoning.

Remove from heat and stir in mozzarella cheese.

Allow mixture to cool for about 10 minutes.

Spoon a heaping tablespoon of filling into the center of each egg roll wrapper.

Fold top corner over filling and roll tightly to opposite corner.

Wet the edges of another corner with a beaten egg and press to seal.

Repeat with remaining wrappers and filling.

Heat oil in a deep skillet or deep fryer to 375°F. Fry egg rolls, a few at a time, occasionally turning until golden brown, for about 3-5 minutes per batch.

Drain on paper towels and serve with reserved pepperoncini peppers as garnish
Video
Nutrition
Calories:
799
kcal
Carbohydrates:
60
g
Protein:
44
g
Fat:
40
g
Saturated Fat:
16
g
Polyunsaturated Fat:
2
g
Monounsaturated Fat:
17
g
Trans Fat:
2
g
Cholesterol:
148
mg
Sodium:
1245
mg
Potassium:
599
mg
Fiber:
2
g
Sugar:
1
g
Vitamin A:
170
IU
Vitamin C:
1
mg
Calcium:
143
mg
Iron:
7
mg
---