Are you looking for a healthy and delicious snack?
Try these fantastic cantaloupe recipes!
Cantaloupe is a sweet and juicy melon with a mildly sweet, slightly tart flavor.
It makes a great addition to salads and smoothies.
It's delicious raw and adds a nice texture too!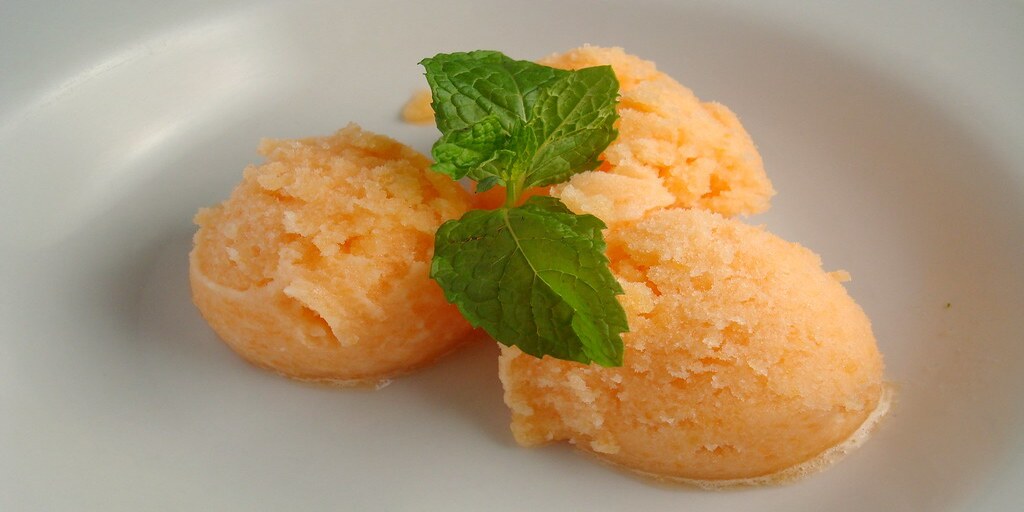 Cantaloupe is one of those melons that everyone loves.
It tastes great in cocktails, snacks, smoothies, and more.
And it's becoming more and more popular in the United States.
So if you're looking for some new recipes to try out, I have you covered!
I have ten can't-miss cantaloupe recipes that will make the sweet melon even sweeter.
Let's dive in!
There's no better way to cool down on a hot day than with a glass of this cantaloupe sorbet.
With just four ingredients, you can have this refreshing treat ready in minutes.
All you'll need is fresh and ripe cantaloupe and sugar to sweeten the deal.
Pro tip: use your favorite mixer to get that perfect consistency.
It gives the sorbet a smooth, velvety texture perfect for dunking into ice cream or even dessert sauces!
If you're looking for an easy way to make refreshing and delicious drinks, look no further than these cantaloupe slushes.
The best part is that they only need three ingredients.
What could be better?
These slushies are thick with sweet and tart flavor.
The fresh mint adds a fresh bite that makes this recipe absolutely perfect.
Gluten-free, dairy-free, non-GMO, and Paleo-friendly – these slurps are some of the best on the planet!
I love melon.
I think it's adorable, luscious, and has a subtle sweetness that you can't get from any other fruit.
It's the perfect way to enjoy fresh citrus without too much sugar.
Plus, it looks so pretty when combined with its bright pink color.
This recipe is a great way to add this sweet-n-sour taste to your next meal!
The best part?
You can use any kind of melon you have on hand.
Just as the name suggests, this banana sorbet is sweet and tart, with a deliciously creamy base.
It's not too heavy or too thin.
It's just right!
The chocolate-covered bananas add a fun touch of sweetness to the mix, but don't be afraid to go crazy with toppings if you want to really take it up another notch.
A sweet and sour treat in a cup makes me happy!
This smoothie is the perfect way to enjoy this fruit.
Cantaloupe is packed with vitamins, minerals, and fibers.
It's also rich in flavor and texture.
The best part of this smoothie?
You can make it at home without any mix-and-match recipes!
You can add your favorite fruits for added sweetness or go for a fruity blend like this one!
This light and refreshing salad is a great way to enjoy the flavors of summer vegetables.
It's fresh, fresh, fresh!
With cantaloupe, Brussels sprouts, and mozzarella cheese all in one dish?
I'll take two!
Vanilla cantaloupe jam is the perfect store-bought option for making a truly homemade dessert.
The sweet, tart flavor of the cantaloupe pairs beautifully with the creamy vanilla base.
Best of all, this recipe only takes 15 minutes to make and requires no cooking at all!
You'll love how it brightens up your breakfast spread by adding just a hint of sweetness.
Spicy, crunchy, and refreshing, this cantaloupe and cucumber salad is a great appetizer or side dish.
It's simple to make but looks like you spent hours in the kitchen.
It features a mix of canned goods that come together quickly.
Even though it's not overly rich, this salad is a great way to sneak some vitamins into your diet without giving up on flavor.
Cantaloupe and lime are the perfect mix for a refreshing cocktail.
This cantaloupe jalapeno agua fresca is refreshing and deliciously tart.
The combination of sweet, tart, and spicy flavors makes this beverage so enjoyable.
It's a must-try if you're looking for something that's both easy to make and delicious!
10. Spiced Cantaloupe Tea Loaf
This is a fantastic dessert for any occasion and can be made in your slow cooker or oven on the day.
It's the perfect way to have something sweet but not too sweet.
Add some fresh mint to the top for a tea-time twist, and enjoy with a big piece of crusty bread.
If you're looking for a refreshing, bright way to bring your morning smoothie to life, give cantaloupe juice a try.
This is the ideal recipe for those of you who are very fond of fruit.
It has all the sweet and tangy flavor of this melon but with less water, making it more intense.
Okay, this is looking like a great way to start your meal.
If you're not convinced yet, let me tell you that it starts with the best cantaloupe.
Cantaloupes are so creamy and juicy I just want to eat them straight from the bowl!
Start by scooping out some of the pit and making sure it's perfectly smooth.
Then spoon in a bunch of fresh mint.
For an added kick, throw in a few pinches of sea salt or chili pepper flakes.
I love adding garlic to mine for a bit more heat.
Or if you can't get enough crunch, try sprinkling over some crumbled bacon.
This cocktail is another summer favorite that's sure to bring a smile on your face.
It has a sweet, fruity flavor from the melon and honey syrup.
It's slightly tart and creamy with a hint of sweetness.
The fruitiness balances out its sharpness so it tastes great on any occasion.
This recipe is for something a little different if you're looking for something fresh and creamy.
It takes just 30 minutes to make, and it will be ready to go in under an hour.
You can use this as a filling or spread on toast, crackers, or bread.
I'm a big fan of the lime and salt combo, but I just love how the sweetness of the cantaloupe is balanced out by the saltiness of the margarita.
You might not realize it, but this drink is made with fresh lime juice and simple syrup.
It gives you a sweet and sour punch that goes so well with margaritas in general!
The best things in life are simple.
And this cantaloupe salad is a beautiful, fresh reminder of that!
Cantaloupe and feta cheese make an unbeatable pairing.
The sweet and salty flavors of the cantaloupe will delight your tastebuds while the creamy feta cheese brings a bit of crunch.
All you'll need are some simple ingredients to throw together this salad.
You should be able to find halloumi at any grocery store already.
Let me just tell you how amazing this is.
You'll need only five ingredients and about 15 minutes to make this recipe.
All you'll have to do is grate your cantaloupe (I like mine small), then mix with sugar, cinnamon, vanilla, and red food coloring.
You can serve it as a thin dessert or as a side dish for some chicken.
Looking for a refreshing summer salad?
This spiralized cantaloupe and prosciutto salad is the perfect dish.
It's light and full of rich flavors.
It's also super easy to make, so you can spend your days in the garden instead of at work.
This recipe features fresh mozzarella, sweet cantaloupe, and salty prosciutto.
It's tossed with flavorful olive oil, lemon juice, and extra virgin olive oil.
And yes, it's keto-friendly!
This recipe is a great way to add some freshness to your summer recipes.
It's also something that can be made ahead of time, so you won't have to worry about it being cold when you need it.
You don't even need a grill! Just make sure the heat is on and toss the ingredients in, then pop them under the broiler for a few minutes.
I won't lie, this is the shizn't version of frozen coffee.
That said, I really like the crunch of fresh cantaloupe, and it works well in a latte.
If you have a machine that can make frozen drinks, give this recipe a try instead.
It yields a perfectly creamy and refreshing drink.
Peach cantaloupe smoothie is a fantastic way to start your day.
It's light and fluffy with plenty of sweetness from the ingredients.
A splash of almond milk gives this smoothie a richer flavor, while fresh peach provides a sweet, juicy finish.
Top it off with granola for extra energy!
Enjoy the sweet and tart taste of honey-lime grilled cantaloupe in just 15 minutes.
Grilled cantaloupe is the perfect summer fruit to serve at your next backyard party.
This recipe combines similar tastes and textures, so it's a summertime must-try.
Serve with a side of fresh kettle corn for an even better treat!
This salad is a must-try!
Watermelon and cantaloupe are an excellent combination.
The sweet and juicy watermelon complements the tangy, creamy texture of the cantaloupe.
It's light, refreshing, and perfect for a summer lunch or dinner.
Feel free to add some chopped nuts and feta cheese for added flavor and protein.
If you're looking for a unique summer dessert, try this cantaloupe jelly recipe.
It's light and refreshing with bright flavors.
It's made with fresh fruit, sugar, water, and lemon juice.
The recipe is simple and straightforward.
You can change up the flavorings to match your tastes.
I love this vibrant mix of tart, sweet, and creamy.
It's perfect if you need something quick yet absolutely delish!
Desserts aren't just for breakfast anymore!
This dessert cupcake is the ultimate treat to satisfy your sweet tooth.
With an eggy cake and cantaloupe filling, this dessert is so light, it doesn't even need a frosting.
I highly suggest adding some whipped cream or vanilla ice cream to make this dessert extra decadent.
Plus, you can eat this dish for breakfast, too!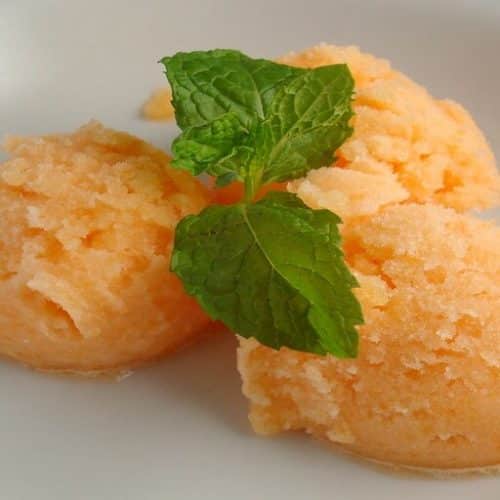 Cantaloupe Sorbet Recipes
There's no better way to cool down on a hot day than with a glass of this cantaloupe sorbet. With just four ingredients, you can have this refreshing treat ready in minutes.
Ingredients
1

cup

sugar

1

cup

water

4

cups

cantaloupe

cubed

2

tablespoons

lemon juice
Instructions
Bring sugar and water to a boil in a small pan. Up until the sugar dissolves, cook and stir. Transfer to a small bowl and chill in the fridge.

In a food processor, combine the cantaloupe, sugar syrup, and lemon juice. Cover and process for 2 to 3 minutes, or until smooth.

Fill the ice cream freezer's cylinder with ingredients and freeze according the manufacturer's instructions. Transfer to a container for freezing, and then do so for 4 hours or until hard.
Video
Nutrition
Calories:
249
kcal
Carbohydrates:
63
g
Protein:
1
g
Fat:
0.5
g
Saturated Fat:
0.1
g
Polyunsaturated Fat:
0.1
g
Monounsaturated Fat:
0.01
g
Sodium:
52
mg
Potassium:
260
mg
Fiber:
1
g
Sugar:
63
g
Vitamin A:
5412
IU
Vitamin C:
20
mg
Calcium:
17
mg
Iron:
1
mg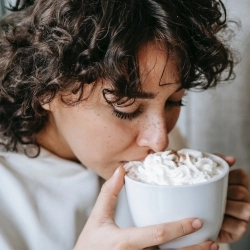 Latest posts by Grace Lambert
(see all)