Holidays are a huge moment for the family.
Nothing screams holiday dinner like a scrumptious show-stopping roast.
For me, the Barefoot Contessa sirloin tip roast recipe has been the star in almost all celebrations in my home.
What would life be like without the perfect sizzle, the classic char as your hosting flexing ground?
Don't we all sink into panic mode a few days to hosting?
I know I do. Kitchen fails are moments you can't bounce back from, especially when hosting.
With Easter coming in hot, I have the perfect Barefoot Contessa sirloin tip roast recipe for you.
You're going to always look forward to hosting friends and family once you try this oddly satisfying recipe.
Trust me, you don't have to be a Michelin star restaurant chef to make a juicy sirloin tip roast.
As tough as the sirloin cut is, nothing a great recipe cannot handle. If you struggle with the fear that your cooking might not live up to expectation, then this recipe is for you.
Here's my favorite method for cooking this glorious cut.
Ingredients
● ½ teaspoon Thyme
● ½ teaspoon Oregano
● ½ teaspoon Cayenne Pepper
● One teaspoon Onion Powder
● One teaspoon Garlic Powder
● 1¼ tablespoon Paprika
● One stick of Melted Butter
● Four cloves of Fresh Garlic (optional)
● One teaspoon Black Pepper
● ½ tablespoon Salt
● One chunk 5lbs Sirloin Tip Roast
Method
●In a bowl, mix all the spices well, and then add one stick of melted butter to make a paste. Give it a nice stir, then set aside.
● Place your sirloin tip roast in your baking tray. Take your butcher's twine and tie up your cut tight.
● Rub the spice paste evenly on the pot roast with your hands.
● Allow your roast to sit at room temperature for about 6-8 hours. This will help with the marinating and allow your cut to cook evenly.
●At this point, you're going to preheat your oven to 350 degrees.
● Cook for about 1-1½ hours.
●Remove the roast from the oven, and don't forget to cut off the twine.
● Let it sit for 10-15 minutes before slicing it into thin slices.
The Best Sauce Recipe
One of the best ways to complete your Barefoot Contessa sirloin tip roast recipe is by drizzling an equally delicious sauce over your meat.
Seriously, this sauce is so easy to make and flavorful out of this world.
The creamy horseradish-chive sauce always adds a nice kick to the roast.
Here's how you make it:
Ingredients
● One cup dairy sour cream
● ½ cup prepared horseradish
● Two tablespoons of Milk
● One tablespoon snipped Fresh Chives
● 1/8 teaspoon Ground White Pepper
Method
● Combine all the sauce ingredients in a small sauce bowl.
● Cover, then refrigerate.
●Strain your sauce on a gravy boat and serve with your sirloin steak.
Serve over mashed potatoes with green beans and caramelized onions on the side.
Health Benefits
● Being a lean cut of meat means it can be enjoyed by the whole family, even the weight watchers. The sirloin tip roast has about 151 to 155 calories per serving with only 7 grams of fat and 22 grams of protein.
● You don't have to worry about over-indulging if you're on a strict diet. The low sodium and low cholesterol in the sirloin roast make it an all-inclusive delicacy for all.
● The Nutrient Density Score for the sirloin tip roast is low. This allows you to get the nutrients you need without consuming excess energy.
FAQ
Can I sear my sirloin tip roast before cooking?
Yes.
If you like a good crust on your meat, sear it before cooking.
This will give you a perfectly browned coating.
How much is too much seasoning on the sirloin tip roast?
When it comes to seasoning your roast, there's nothing like too much seasoning.
Adjust the amount of seasoning to your liking and enjoy.
How do I avoid a dry Barefoot Contessa sirloin tip roast?
Roast the sirloin in the oven for about an hour or until it reaches a minimum internal temperature of 145 degrees.
Remove the roast from the oven and let it sit for about 15 minutes before carving.
This allows the juices to set, giving your roast a moist and tender texture
Fun Facts
● The sirloin tip roast is a lot tougher. Medium-high heat and a lengthy cook time are the two crucial tips for a Barefoot Contessa sirloin tip roast recipe.
● Sirloin tip roast is cut from the bottom sirloin found at the front end of the rear leg.
● The tip roast can be braised, stewed, or even ground for hamburgers.
In Summary
This Barefoot Contessa sirloin tip roast recipe is easy enough for every day.
It is a recipe you can enjoy in so many different ways.
You can switch the recipe and process slightly to come up with a new recipe without skipping on the flavor.
Try this classic but fantastic recipe and look at the beam on your guests' faces.
Your hosting experience will never be the same again.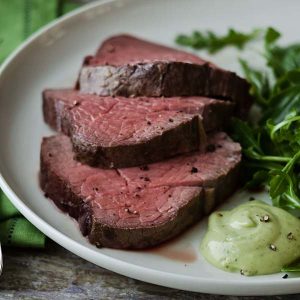 The Barefoot Contessa Sirloin Tip Roast Recipe
The Barefoot Contessa sirloin tip roast recipe has been the star in almost all celebrations in my home
Ingredients
½

teaspoon

Thyme

½

teaspoon

Oregano

½

teaspoon

Cayenne Pepper

1

teaspoon

Onion Powder

1

teaspoon

Garlic Powder

¼

tablespoon

Paprika

1

Melted Butter

4

cloves

Garlic

optional

1

teaspoon

Black Pepper

½

tablespoon

Salt

1

Sirloin Tip Roast
Instructions
In a bowl, mix all the spices well, and then add one stick of melted butter to make a paste. Give it a nice stir, then set aside.

Place your sirloin tip roast in your baking tray. Take your butcher's twine and tie up your cut tight.

Rub the spice paste evenly on the pot roast with your hands.

Allow your roast to sit at room temperature for about 6-8 hours. This will help with the marinating and allow your cut to cook evenly.

At this point, you're going to preheat your oven to 350 degrees.

Cook for about 1-1½ hours.

Remove the roast from the oven, and don't forget to cut off the twine.

Let it sit for 10-15 minutes before slicing it into thin slices
Video
Nutrition
Calories:
459
kcal
Carbohydrates:
5
g
Protein:
89
g
Fat:
7
g
Saturated Fat:
2
g
Polyunsaturated Fat:
1
g
Monounsaturated Fat:
3
g
Trans Fat:
1
g
Cholesterol:
238
mg
Sodium:
1942
mg
Potassium:
1614
mg
Fiber:
1
g
Sugar:
1
g
Vitamin A:
295
IU
Vitamin C:
5
mg
Calcium:
51
mg
Iron:
4
mg
---