If you're a bagel fan, then this list of bagel sandwich recipes is for you.
I'm a huge bagel fan myself.
And I know there are so many delicious ways to enjoy them.
But I just have an insatiable craving for a bagel sandwich.
And I know that many people have the same thing in mind when they think of bagels.
So, if you're one of those people, you'll be able to find your new favorite on this list!
For example, did you know that there are so many different kinds of bagels?
Did you know that some bakers add cheese and even fill them with meat?
Let's take a look at some of the best and tastiest bagel sandwiches you can make.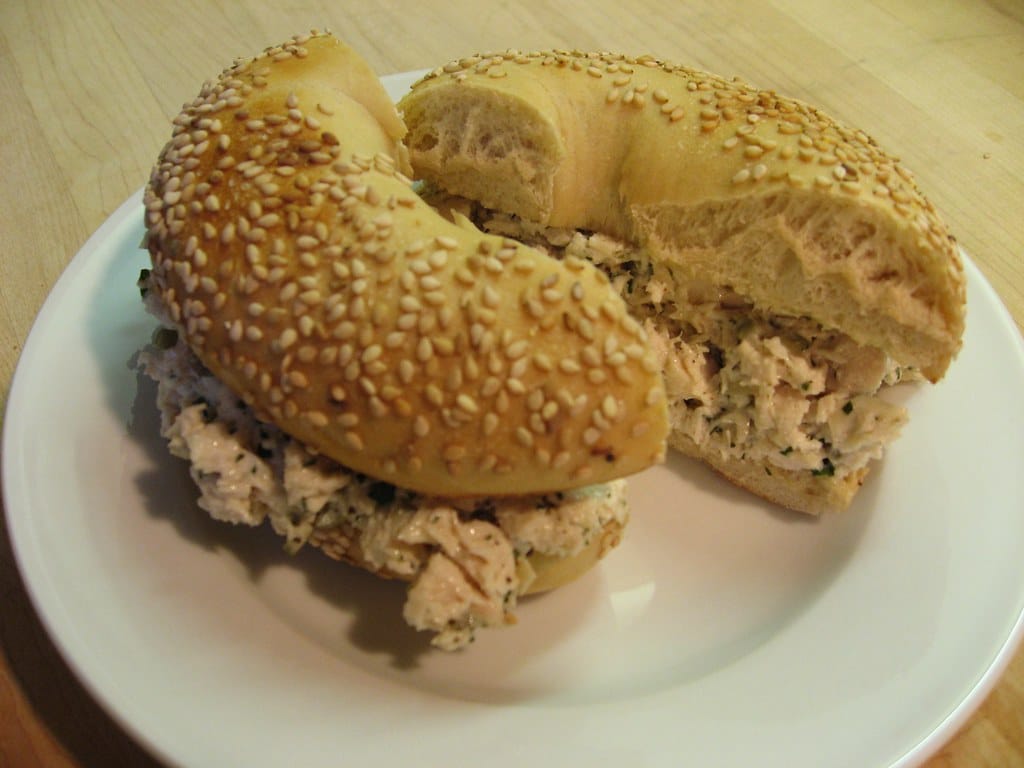 Fried egg sandwiches are a tasty way to start the day, but they can be a bit messy and require a frying pan.
This avocado fried egg bagel is a healthier alternative that's still just as delicious.
It has all of your favorite fried egg combinations, including cheddar cheese, herbs, and chives.
You can add any toppings you like most, such as tomatoes or olives.
Although this recipe makes an individual breakfast sandwich, it's also great for lunch or dinner because it's so filling.
I'm all for a bagel, but when I want something hearty and filling, this is the recipe for me.
The toasted bagels are filled with scrambled eggs and bacon, cheese, and chives.
Instead of butter or mayo, you'll make your own hummus sauce that's creamy and flavorful.
This is the kind of sandwich you'll want to eat with a spoon.
It's so good, it's hard to believe it only takes 15 minutes to whip up!
If you're looking for something a little lighter and to-go, this grilled cheese bagel is just the ticket.
It's fluffy and cheesy with a hint of sweetness from the caramelized onions.
It's also super hearty but not too heavy or filling.
The only thing missing is some cream cheese on the inside, so I think it might be better as an appetizer.
This smoked salmon breakfast bagel sandwich is a fantastic way to start your day.
It's packed with all of the best flavors, and it's easy enough that even kids can make it.
Believe it or not, you can have these for breakfast!
You'll love how much flavor there is in every bite.
It might just be the best thing on this list.
If you're looking for something quick and easy to whip up, it doesn't get much fresher than this egg in a bagel.
It takes only 5 minutes to make and requires just one when cooked.
The end result is a crisp egg that has a lovely crunchy crust on top.
The ingredients are simple and the result is amazing.
It's like getting your favorite fried eggs served in a bagel!
This is the tall order in your kitchen because you'll go to town with this New York-style sandwich.
It's savory, cheesy, and packed with bacon! Plus, it features just as many toppings as other sandwiches on this list.
I like to keep some blood sausage and caramelized onions for extra flavor.
This sandwich is a yummy treat for your tastebuds.
You'll love the combination of savory and sweet that comes together with cream cheese.
There are also veggies on the bagel, like spinach and cherry tomatoes.
This makes for an extra boost of nutrients, and it's delicious.
When I see eggs Benedict, my mind immediately goes to a grilled-cheese egg sandwich.
So, this breakfast biscuit is the perfect addition.
I like mine with plenty of hollandaise sauce and a poached egg on top.
But the original recipe calls for Hollandaise Sauce and slices of ham.
If you want an even more hearty start to your day, try adding some leftover roast chicken or duck!
I'm not sure there is a better way to start the day than with a Romesco breakfast bagel sandwich.
The toast is golden brown and crispy on the outside, which makes it perfect for dipping in the Romescio sauce.
And I think that's just what it needs.
If you haven't tried it yet, make sure you give this recipe a try!
Also, if you don't have time to make Romesco sauce from scratch, this recipe makes an excellent substitute.
Just be sure to use good quality canned tomatoes and some lemon juice!
The next time you are craving a sweet and salty treat, give this recipe a try.
It's like an Israeli pita pocket but with lox instead.
It's so good that it can even easily be eaten on its own.
This is such a great place to start if you want to make your own lox!
You can add fresh herbs to the meat, or even use leftover smoked salmon for extra flavor.
Of course, no lunch could be complete without pickle chips.
This recipe calls for smoked salmon and cream cheese, but you could always use whatever cream cheese you have on hand.
What's better than a bagel?
A bagel with prosciutto, arugula, and apple.
It's like a dreamy breakfast that you can make in just 20 minutes!
The best part?
It's made using only five ingredients.
No bread maker required!
Once you know how to make pesto in a blender, you're all set.
Put it on everything and never worry about making it again.
This recipe is perfect for a quick lunch or brunch.
And if you're feeling lazy, just use pre-made bagels!
Just keep in mind that the bagel needs to be sliced before adding any ingredients.
And when using whole wheat bagels, please note that they won't hold together as well as their white counterparts.
This sandwich is a genius way to use up leftover turkey.
Even if it's not Thanksgiving, I always have this in my weekly lunch rotation.
It has the perfect balance of flavors and textures with juicy turkey, fresh veggies, and creamy avocado spread.
The only thing I would add would be some chopped onion for that extra boost of flavor!
This green goddess sandwich is a classic breakfast treat.
If you've never tried it before, then I highly recommend giving it a shot.
It's a combination of bacon, eggs, and cheese.
It has all the elements of a good sandwich – protein, fats, carbs, and carbohydrates!
The best part is that this sandwich doesn't have any preservatives or artificial ingredients.
It's perfect for people who aren't into eating huge meals for breakfast.
You might be thinking, "Are you crazy?" But their are some seriously delicious pesto chicken salad sandwiches.
This recipe captures the spicy goodness of the classic sandwich in a bowl.
It has all the bright flavors of pesto and creamy yogurt.
It's light, refreshing, and it goes with just about anything!
Have you ever tried a chicken salad sandwich? If so, you're in for a treat!
This one is packed with sweet and tangy flavors as well as tender shredded chicken.
It has everything you can ask for in a sandwich – crunchy veggies, salty pickles, creamy mayo, and succulent chicken.
It sounds like heaven in a bag.
And it tastes even better!
Caprese is the quintessential Italian summer salad.
It's the perfect combination of tomatoes, mozzarella, basil, and balsamic vinegar.
And now you can make it in your own kitchen with a handful of pantry staples.
This recipe uses bagels because they're convenient and easy to handle.
But if you have a mandolin or vegetable peeler, feel free to use that instead.
Either way, this Caprese bagel recipe will be sure to satisfy any craving for a fresh, flavorful bite!
This sandwich is best on its own, but I love it as a side with my mashed potatoes and gravy!
You can use whatever kind of bread you like for this, but I find it works best with a baguette.
If you have time, toast the bread first so that it gets nice and toasty.
Then just add the turkey slices and apple slices into the buttery bread when you're ready to eat.
To make it a little more festive, try adding some roasted pears or onions to the middle of your sandwich.
I love the simplicity of this sandwich.
You'll just need salami, cheese, and bread for it.
You could also use prosciutto or even smoked to make this extra savory.
For something a little sweeter, try adding some sliced fruits like apples or cherries.
Or for something extra filling, throw in some sliced avocados or olives!
Do you love jalapeño poppers?
Well, this recipe is the perfect way to enjoy them.
It's a simple three-ingredient bagel filled with spicy goodness.
These are bright and flavorful, great for a quick snack or appetizer.
The best part is that they're so easy to make!
Just toss all the ingredients into a food processor and let it do its thing.
If you want something a little more filling than just ham and cheese, try this recipe for ham, egg, and cheese bagel breakfast sandwiches.
The eggs add a boost of protein to the sandwich that'll keep you full longer.
As for the optional fried onions on top, they add another layer of crunchy goodness that pairs perfectly with the softness of the bagel.
This sandwich will keep you happy until lunchtime!
Do you always find yourself craving the same sandwich after a long day at work?
If so, this recipe is for you!
This asiago cheese bagel sandwich is packed with bacon, asiago cheese, and spinach.
It's loaded with green goodness that'll make your tastebuds dance.
Serve it for lunch or dinner and watch how it disappears.
Bagels are the perfect start to your morning, but are they enough for everyone in the family?
This bruegger's Western bagel recipe is all you need to satisfy your cravings.
It's a blend of fluffy and crispy European-style bread topped with melted cheese and delicious toppings.
Serve it with your favorite jams or spreads for dipping.
It's the ultimate breakfast treat!
Move over, waffles; this is the new breakfast must-make.
The sandwich is made with a bagel and fried egg on top.
It's the ultimate bacon and egg lover's dream.
The bagel is salty, sweet, crispy, and soft all at once.
The crunch from the bagel adds a nice texture contrast that can be hard to get enough of.
It might take a little longer than waffles but I promise it'll taste just as good!
This veggie bagel sandwich is to die for.
It's packed with everything you need to enjoy a delicious meal.
The bagels are soft, fluffy, and full of flavor thanks to the addition of cream cheese, onion soup mix, and dill pickle chips.
The scallion cream cheese is amazingly creamy and fills the bagel with a wonderful flavor.
It pairs so well with the veggies in the bagel that it makes this sandwich extra tasty.
If you want something healthy but also very scrumptious, give it a try!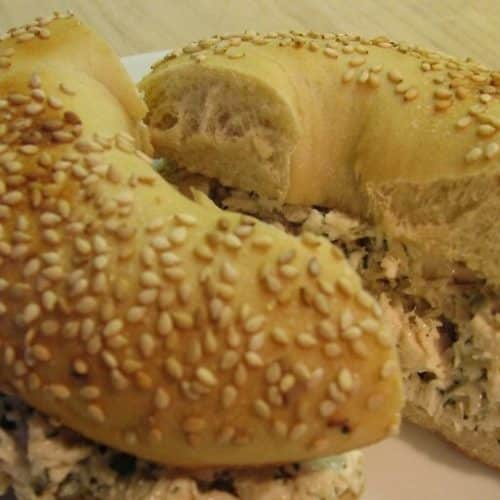 25 Yummy Bagel Sandwich Recipes
It has everything you can ask for in a sandwich – crunchy veggies, salty pickles, creamy mayo, and succulent chicken.
Ingredients
1

pound

applewood smoked bacon

1

pound

cooked chicken

1/3

cup

mayonnaise

½

teaspoon

Dijon mustard

¼

teaspoon

ground black pepper

1/8

teaspoon

cayenne

4

everything bagels

4

slices

sharp Cheddar cheese
Instructions
Oven to 400°F (200°C) before using. On a baking sheet lined with aluminum foil, arrange the bacon in a single layer and bake for about 20 minutes, or until golden and crispy.

Stir the chicken, mayonnaise, mustard, black pepper, and cayenne together in a medium mixing bowl until well blended.

Set the oven to broil. On a baking sheet, spread out the bagels' bottom halves. A scoop of the chicken salad and a piece of cheese should be placed on top of each half of the bagel.

About a minute or two under the broiler will have the cheese melted. Add bacon, then assemble the sandwiches. Cut in half, then present.
Nutrition
Calories:
2386
kcal
Carbohydrates:
117
g
Protein:
121
g
Fat:
155
g
Saturated Fat:
50
g
Polyunsaturated Fat:
37
g
Monounsaturated Fat:
56
g
Trans Fat:
0.4
g
Cholesterol:
391
mg
Sodium:
3410
mg
Potassium:
1239
mg
Fiber:
5
g
Sugar:
0.4
g
Vitamin A:
817
IU
Vitamin C:
0.1
mg
Calcium:
477
mg
Iron:
7
mg
---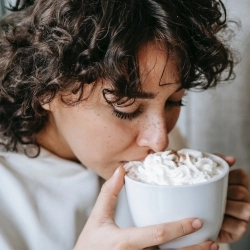 Latest posts by Grace Lambert
(see all)