Imagine preparing a glamorous and electrifying party for your guests.
Then, shortly after serving them with some droll-worth chicken, they start complaining of stomach upsets.
The atmosphere suddenly changes to a sad one, thus ruining the day altogether.
You may have prepared well and had your family and friends' best interests at heart.
However, something went wrong while cooking; you were not keen on what the temperature for cooking chicken is.
So, what is the right temperature for cooking chicken?
The recommended safety standard temperature by the U.S. Department of Agriculture (USDA) is 165 F.
No matter the cooking method or technique, ensure that your chicken reaches 165 F to avoid food-borne diseases caused by bacteria such as salmonella.
Undercooked or overcooked chicken is a recipe for frustration when you have done everything else well.
Therefore, knowing the right temperature to cook your chicken is vital so you can have a superb outcome.
This article will look into the how-to check, dressing chicken, different parts, cooking methods, and different chicken temperatures.
What are the different chicken temperatures?
For your effective chicken cooking, the temperature is crucial.
You should know the different chicken temperatures to avoid over or under-cooking.
Firstly, the internal chicken's internal temperature before cooking should be at room temperature.
Secondly, the oven temperature should align with the dialed number.
Thirdly is the recommended internal temperature of a properly cooked chicken, which is also safe for consumption.
Finally, is the chicken temperature for ‌quality.
White meat, such as chicken breast, should be subjected to a temperature that makes it firm rather than dry and stringy.
Then, for dark meat like chicken, thighs should be put under heat that makes them juicy and tender, not rubbery.
How to check the chicken temperature
Knowing how to check chicken temperature will help you avoid which would lead to food-borne disease or overcooking, hence drying out.
Here is the right way to do it.
Have an instant-read thermometer.
Insert it in the tickets part of the chicken. The breast and things are the thickest parts. Also, ensure it doesn't touch any bone because it may throw off the temperature.
Leave the thermometer in the chicken for some time until the temperature readings are steady. It may take a while, depending on the thermometer you use.
After recording the temperature, wash the thermometer with soap and water, especially when the chicken is undercooked. Reinserting it before washing may cause contamination.
Cooking time and temperature for chicken
Cooking time and cooking temperature have a relationship.
The higher the temperature, the higher the time for cooking and vice.
Despite the temperature and time you choose, always adhere to the 165 F rule.
Otherwise, you may undercook, thus posing a health risk to yourself, or overcook, which would cause drying, hence losing its flavor.
What is the chicken breast doneness temperature?
Chicken breast is part of the white meat in chicken, which stands at 165 F when properly cooked.
However, you can remove it from heat when it reaches a temperature of 162 F, then let it rest.
It will keep the heat and increase slowly until it reaches the standard temperature of 165 F.
Hence it will prevent overcooking and drying.
The resting period depends on the thickness of the breast.
For smaller-sized breast pieces, they can rest for 5 minutes.
Larger pieces may rest for 10 minutes.
It's also important to consider if the chicken piece is bone-in or boneless.
Bone-in takes longer to rest than boneless ones.
What is the chicken thigh's doneness temperature?
Chicken thigh meat is dark meat, which is likely to have a better taste when cooked under high temperature because of many connective tissues.
If you cook until 165 F, the chicken thighs will be safe for consumption, but they will be rubbery and chewy.
However, when you let them stay on heat albeit longer, they will turn out juicy and soft due to gelatin forming when collagen melts.
As long as the chicken has reached the standard safety temperature of 165 F, then you can have it.
Additional temperature is for quality and texture.
Nevertheless, it depends on individual taste and preference.
How can I ensure that my chicken is cooked at the right temperature?
Beyond cooking temperature and time, there are other ways you can make your chicken mouthwatering by not overcooking or undercooking.
Ensure that you preheat the oven before cooking
If you cook before preheating the oven, you may not ‌track the specified cooking time.
The chicken may take longer and cook unevenly, with some parts undercooked while others dry out.
Temper meat
Before cooking, ensure that your chicken is at room temperature.
If you are using refrigerated chicken, remove it 30 minutes before cooking it.
When at room temperature, it will cook evenly and take less time for heat to reach the center, thus ensuring proper cooking.
Ensure that the oven is calibrated
It's crucial to check the condition of your oven often and before cooking.
To confirm if the oven is calibrated, turn it on and place a thermometer inside.
The temperature should be like the oven dial.
Be intentional in learning
To avoid chicken cooking mistakes, be intentional about learning the right temperature to cook different cuts.
For more accurate figures, use the USDA guidelines, which are available online.
Have a meat thermometer
A meat thermometer is the best way to know if your chicken has reached 165 F, especially the thick parts because you insert it.
What is the right temperature to bake chicken?
The right temperature for a baked mouthwatering and juicy chicken is 375 F(190 C).
The internal temperature should also reach 165 F to ensure safety.
This temperature is fit for 8 ounces of chicken breast.
However, it may differ with the temperature consistency, coating, and if it's boneless or bone-in.
As the amount of chicken increases, the temperature should also increase to ensure thorough cooking.
What is the right temperature for grilling chicken?
Grilling chicken requires a temperature of between 425 F and 150 F.
However, the temperature may adjust depending on the meat thickness and whether it's white meat or dark meat like chicken thighs.
The time taken to grill chicken is 10 minutes.
For even cooking, grill for 5 minutes on each side.
What is the temperature to roast chicken?
Chicken is best roasted at 325 F-455 F.
However it may differ depending on temperature consistency and thickness of the meat if it's boneless or bone-in.
The internal temperature should stand at 165 F.
You may remove it for 5-10 minutes before it reaches 165 F to allow the remaining uncooked part to cook as it rests.
Why should I let the chicken rest after cooking?
It is essential to let your chicken rest for about 10 minutes before serving.
It will help reabsorb the juices into the chicken, thus making it moist.
Furthermore, it relaxes fiber, making carving easier.
Resting also prevents overcooking, especially for white meat.
It's advisable to remove the chicken from heat for 3-5 minutes before reaching 165 F, then let it rest.
Heat will gradually increase to 165 F, thus preventing overcooking and drying.
Tips for resting chicken
Make your chicken more delicious by allowing it to rest.
Here are some tips you can use;
Different chicken recipes and cooking techniques may suggest varying resting times, but the rule of thumb is between 5- 20 minutes.
The bigger your chicken cut, the more time it should rest. Chicken breast can take about 5-10 minutes, while the whole chicken may rest for 15-20 minutes.
Avoid covering the chicken because it will sweat out the juices, hence losing moisture. Otherwise, you can use tented aluminum foil.
Conclusion
We hope ‌this article has answered the question of what temperature is suitable for chicken.
Anytime you make a delicious chicken meal for your family and friends, ensure you adhere to the right temperature.
Ensuring that your temperatures are correct bridges a frustrating chicken outcome and a mouthwatering one.
FAQs
Is it okay to skip the thermometer when the juice becomes clear?
While it may be true that your chicken is ready when the juice clears, it is not a sure way to determine its doneness.
Primarily for safety against bacteria infections, it's vital to use a meat thermometer to check your chicken readiness.
What is the temperature for cooking chicken sous vide?
Chicken sous vide is an exception from the USDA chicken standard temperatures of 165 F.
Nevertheless, it achieves the goal of destroying bacteria through long cooking hours.
Can I change the temperature if I use different cooking methods?
No, the cooking method does not affect the temperature.
The ultimate temperature remains 165f F for safety reasons.
It is important to adhere to this standard to avoid food-borne diseases caused by bacteria found in chicken.
Can I feed on chicken at a temperature of 145 F?
It is not advisable to eat chicken that is below 165 F.
However, it may depend on how long and the temperature you subject your chicken because the elimination of bacteria is a function of heat and time.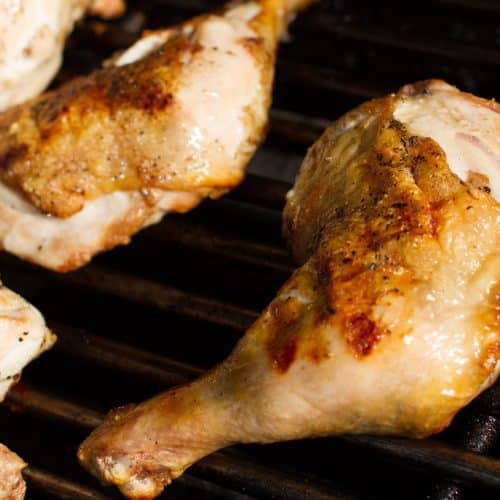 What Is The Right Temperature For Chicken? Let's Find Out
Cooking time and cooking temperature have a relationship. The higher the temperature, the higher the time for cooking and vice.
Ingredients
350

gm

chicken.

1/2

cup hung

curd.

1/2

teaspoon

ginger

paste.

1/2

teaspoon

garlic

paste.

1/2

teaspoon red

chilli powder.

1/4

teaspoon

coriander powder.

1/4

teaspoon

cumin powder.

1/4

teaspoon powdered

black pepper.
Instructions
In a large bowl, whisk the salt in the water to dissolve.

Add the chicken breasts to the brine. Put in the refrigerator and chill for 30 minutes.

Chicken breasts brining in a glass bowl to show how to cook chicken breast.

Arrange your grill so that one side is for high direct heat, and the other side is cooler.

Alternatively, you can use a grill pan, set over medium-high heat.

Remove chicken breasts from brine and pat dry.

Coat with olive oil, and sprinkle evenly with paprika.

Chicken breasts being brushed with oil on a cutting board to show how to cook chicken breast.

Brush some olive oil on the grill grates. Place chicken breasts on the hot side of the grill (or on the grill pan).

Let the chicken grill, undisturbed, until the pieces start getting some grill marks (you can lift up one to check).

When the chicken pieces have browned on one side, turn them over, and move them to the cooler side of the grill (low heat, not no heat).

Cover, and let them finish cooking.

Remove chicken from grill when the internal temperature of the chicken reaches 155°F.
Video
Nutrition
Calories:
80
kcal
Carbohydrates:
1
g
Protein:
7
g
Fat:
5
g
Saturated Fat:
1
g
Polyunsaturated Fat:
1
g
Monounsaturated Fat:
2
g
Trans Fat:
0.03
g
Cholesterol:
21
mg
Sodium:
27
mg
Potassium:
68
mg
Fiber:
0.4
g
Sugar:
0.1
g
Vitamin A:
163
IU
Vitamin C:
1
mg
Calcium:
32
mg
Iron:
1
mg
---
‌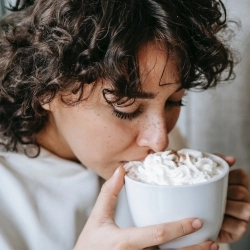 Latest posts by Grace Lambert
(see all)