When you think about vegetables, you probably don't think about how many times they were boiled.
Yet boiling is one of the most commonly used blanching methods, and it has a lot going for it.
For starters, boiling kills bacteria, making it an effective way to kill off harmful microorganisms like E.
coli and salmonella.
Boiling also helps bring out the flavor and nutrition in your vegetables.
When you boil vegetables, their chlorophyll is released into the water, which makes them more nutritious, while also improving their color, texture, and appearance.
If you don't want to cook your vegetables yourself, you can buy pre-cut, pre-washed, and ready-to-eat frozen vegetables that will be already blanched, so all you have to do is thaw them before using them.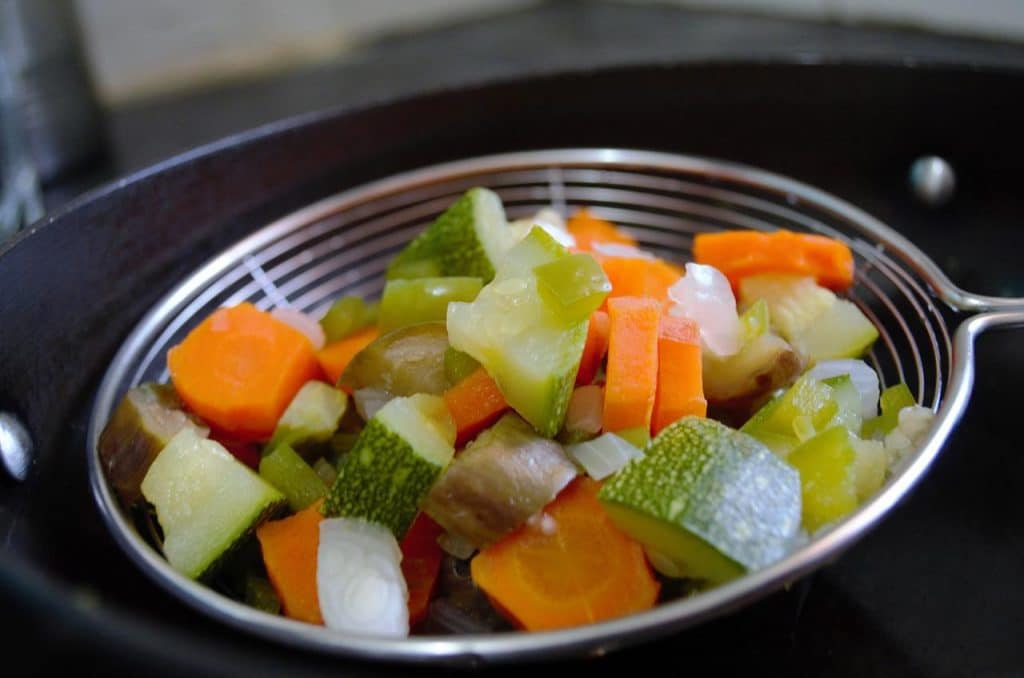 What is blanching?
To blanche something means "to expose to heat" or "to boil lightly." In the context of food preparation, blanching refers to exposing specific foods (usually vegetables) to hot water or steam to remove surface impurities, such as dirt, bugs, and other unwanted elements from the exterior of the food.
This helps prevent any potential contamination during food preparation.
You typically blanch vegetables by submerging them in boiling water for a few minutes, but you can also use cold water or steam instead.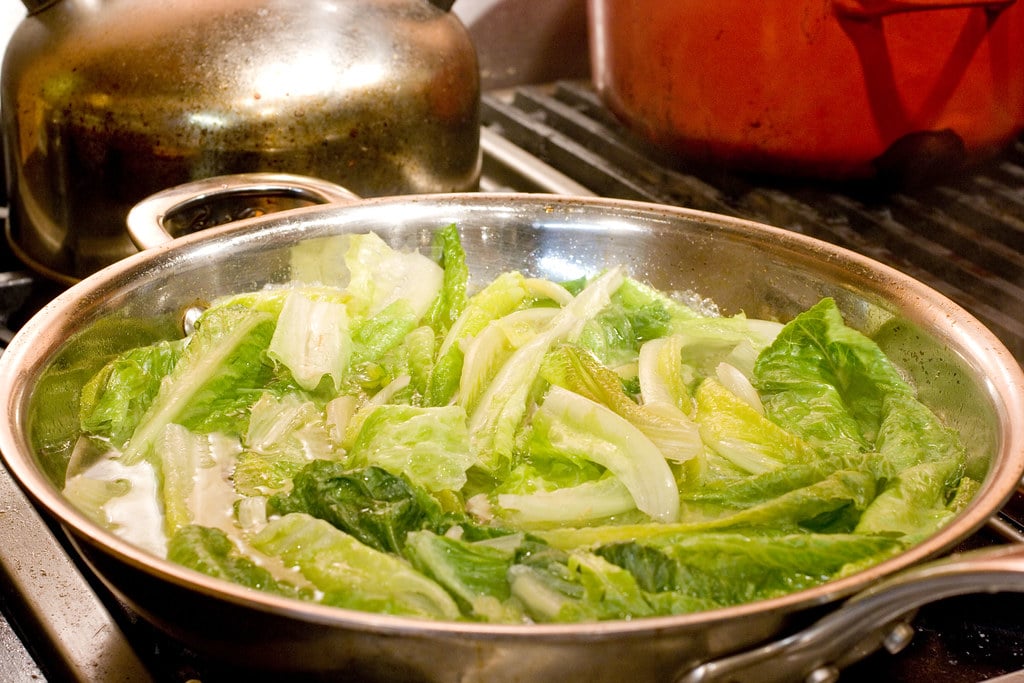 What are the benefits of blanching?
The primary benefit of blanching is that it allows you to get rid of those nasty bits on the outside of the vegetable that would otherwise contaminate the interior of the food.
It also exposes nutrients to the elements, which improves flavor and nutrition.
Because you're working with high temperatures, blanching also cooks the internal structure of the vegetable without overcooking it.
Another benefit of blanching is that it removes excess moisture from a vegetable, which reduces its weight and makes it easier to cut up and store.
Blanching also helps vegetables stay fresh longer because it seals them in the cell wall.
In fact, blanching is often used in conjunction with freezing to extend the shelf life of your produce.
What are the best methods for blanching vegetables?
There are two basic blanching methods: boiling and steaming.
Boiling is the oldest and most popular way to blanch, but it requires additional equipment, including a stovetop, pot, and large pot.
Steaming works well for delicate vegetables like leafy greens, as long as you don't leave the steamer basket too close to the flame.
Steaming is a low-impact process, so it doesn't require much attention or work once you set it up.
You just need a steamer basket that fits inside of your pan or pot to hold your vegetables (or whatever you're blanching).
How does blanching affect the nutritional value of vegetables?
As mentioned earlier, blanching brings out the flavors and colors of vegetables, which makes them healthier to eat.
But blanching also has another effect: it helps release some of the vitamins and minerals found in vegetables.
The amount of vitamin C is increased by 50 percent when a carrot is blanched, and even though blanching only increases the vitamin content slightly, it does increase the overall healthiness of your vegetables.
Are there any risks associated with blanching vegetables?
Yes, there are some potential risks involved with blanching vegetables.
First, if you overblanch your vegetables, you risk destroying their natural shape and structure, which could result in mushy pieces.
On the flip side, underblanching can cause your vegetables to become soggy and lose their crunchy texture.
Second, blanching causes changes to the color, texture, and flavor of your vegetables.
Some vegetables are better suited for blanching than others, so if you try to blanch everything that comes your way, this could lead to food waste.
What happens if you don't blanch vegetables properly?
If you don't follow proper blanching guidelines, you risk ruining your food.
For example, if you blanch something at the wrong temperature, it may not turn out the way you expected.
If you overblanch something, it will likely lose its crunch, and if you underblanch it, it may get mushy.
What are some common mistakes people make when blanching vegetables?
People tend to underestimate the importance of blanching and overestimate the time required, which can lead to food waste.
Make sure to check on blanched vegetables frequently during the first minute, and then every five minutes until the desired result is achieved.
How can I tell if my vegetables are properly blanched?
It's important to remove the vegetables from the heat as soon as they reach the correct temperature.
To test whether your vegetables are done, look for these signs:
Vegetables should feel firm.
They shouldn't retain a raw-looking appearance.
They should smell good and taste sweet.
If you notice any of these signs, take the vegetables out of the water immediately, let them cool down, drain off the extra water, and serve them right away.
What should I do with my blanched vegetables after they are cooked?
When you finish blanching vegetables, you should place them in an ice bath to stop the cooking process.
This helps stabilize the texture of the vegetables and gives them time to cool down and dry out completely.
Can I freeze blanched vegetables?
Yes, you can freeze blanched vegetables in plastic bags.
Place the vegetables on a paper towel, fold the paper towel over the bag, and seal it tightly.
Then label and date it for easy identification later.
You can freeze blanched vegetables for up to six months, although the texture tends to degrade quicker than unblanched ones.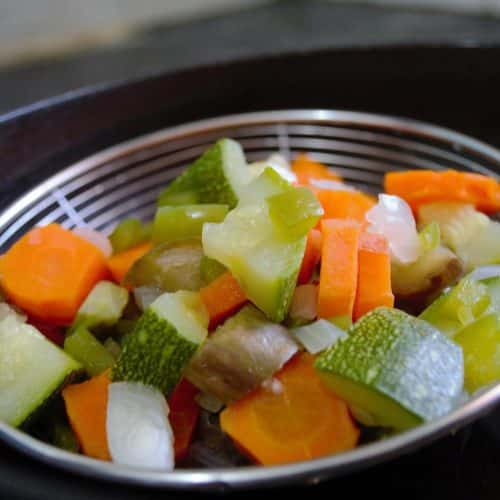 Blanched Green Beans
To blanche something means "to expose to heat" or "to boil lightly."
Ingredients
2

cups

green beans

1

pinch

salt
Instructions
Prepare the green beans, then boil them for 7-8 minutes in salted water until crisp-tender (al dente).

Rapid immersion in cold water will stop the cooking process and set the color of the beans. After shaking the water out, drain it and serve.
Video
Nutrition
Calories:
34
kcal
Carbohydrates:
8
g
Protein:
2
g
Fat:
0.2
g
Saturated Fat:
0.1
g
Polyunsaturated Fat:
0.1
g
Monounsaturated Fat:
0.01
g
Sodium:
26
mg
Potassium:
232
mg
Fiber:
3
g
Sugar:
4
g
Vitamin A:
759
IU
Vitamin C:
13
mg
Calcium:
41
mg
Iron:
1
mg
---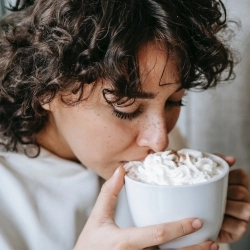 Latest posts by Grace Lambert
(see all)