Venison is a type of meat from any animal with antlers, such as deer, elk, caribou, or moose.
Because venison has less saturated fat and is thinner than ground beef, it makes for a lighter chili.
Because of that, it's also higher in protein, which is beneficial for muscular growth.
In spicy meals, the flavor holds up better than ground beef.
If you want to use ground beef instead of chicken, skip the olive oil step in the first step.
Some people may detect an intense flavor and aroma, referred to as "gamey."
It has something to do with the animal's diet.
The best part about this dish is that you can throw everything in the slow cooker and forget about it for the entire day; just remember to add the beans around 1-2 hours before the chili is done.
Because I feel no one loves their beans even mushier than they already are!
Recipe for delightful Venison Chili in Slow Cooker
This warm and tasty Venison Chili recipe is ideal for a hectic day at work, a relaxing Saturday, during the chilly months of hunting season, or whenever you have ground venison in your freezer.
Ingredients
1 pound venison ground
A quarter teaspoon of salt
A quarter teaspoon of pepper
A quarter teaspoon of onion powder
1 cup chopped white onion
1- minced jalapeno
1 diced poblano or aneheim pepper
1- chopped yellow bell pepper
Mccormick Chili Seasoning Packet, 1.25 ounce
14 oz. the beef broth in a can (or one 12 oz. can- of beer)
1 quart of water
14.5 oz. chopped tomatoes with jalapenos in a can
15 oz. drained black bean can
kidney beans, 15 oz. can drain
Tomato paste, 6 oz.
Directions
Brown the venison in a non-stick skillet over medium heat, seasoning it with salt, pepper, and onion powder as it cooks.
In the slow cooker, place the meat.
Combine the remaining ingredients in a mixing bowl.
Stir it well
Set the slow cooker for 8 hours on low.
Serve the chili in bowls with cheese and green onions on top and cornbread on the side.
Dig in!
Suggestions
Leftovers can be refrigerated for up to four days in an airtight container.
Prepare ahead of time: Cool within 2 hours, cover, and store in the refrigerator for 3 days.
The entire recipe should be gently reheated until 165 degrees are reached—Microwave small batches of food to reheat.
Prepared chili should be cooled to below 40 degrees on an instant-read thermometer within two hours of cooking and stored in airtight containers in the freezer.
Chilies can be stored in the freezer for up to six months.
Simply remove them from the freezer and allow them to thaw overnight.
Classic toppings such as cheese, sour cream, and scallions are also available.
There's nothing better than avocado, cooked bacon, cilantro, shredded onion, spicy sauce, lime wedges, tortilla chips, corn chips, and oyster crackers.
Where to Get Venison?
Are you looking for venison but don't know where to get it?
While venison may be challenging in your local supermarket, it has become more commonly available in recent years.
Many specialized stores and butcher shops sell deer meat, and if they don't, they can usually custom order it for you.
If you're having trouble finding venison, several internet sellers- will mail it frozen straight to your door.
The flavor of deer meat is described as deep and rustic, with a more complex texture than other meats such as beef.
Although some people avoid venison because it is said to taste gamey and rough, it all boils down to how it is prepared.
Deer meat tastes best when cooked slowly and slowly since it is a slice of relatively lean meat.
Two typical cooking methods for bringing out its distinct flavor are braising and stewing.
Before cooking, soak the flesh in water, vinegar, or buttermilk to remove the blood and lessen the gamey flavor.
Is there anything you can do if the chili turns out too hot?
Check the ingredients first! If the spices are too much for you, don't use the entire amount.
You might also use a milder spice.
Start with half of the amount and reduce it slightly before stirring and tasting.
If it requires more, gradually increase the amount.
The second option is to include dairy.
It's the most straightforward technique to tone down the heat in any spicy dish.
The creaminess of sour cream or Greek yogurt will help balance out the heat.
But make sure you're using plain Greek yogurt; you don't want your chili to taste like strawberry yogurt.
If you don't have any of the dairy listed above, you can add a splash of milk while it's cooking.
Allow the liquid to evaporate by removing the cover.
Because venison is- leaner, butter might work, but it would generally add too much fat to the chili, making it oily.
You can also add acid to the mix. It can even improve the taste.
You might use a squeeze of lime or lemon, vinegar, or a combination of the two (red or white wine, apple cider vinegar).
Alternatively, remove the cork and pour a small amount- of wine directly into the saucepan.
Diced tomatoes can also help to cool things down by adding a little more acid and reducing the heat.
A pinch of sugar will also help to cool things down.
Don't add too much-granulated sugar (white or brown), honey, or sweeteners like xylitol at once.
Sugars absorb the hot capsaicin oils that give food its spiciness.
Because alcohol, like sugar, is fantastic at soaking up spicy oils, boil it for a few minutes to reduce the proof and salvage the dish.
But not beer, please! Because beer is carbonated, the sensation will be amplified.
It's a good idea to include- starchy, bland foods like potatoes or rice.
Alternatively, serve the chili with a beautiful slice of bread.
All of them are effective at lowering the temperature.
There's no need to add any more water.
Because oil and water don't mix, adding water will dilute the chili, not reduce the heat.
It's ready to eat, and the spices are right for you, but what if one of your visitors is unable to eat it.
So, what exactly do you do?
Well, allow them to drink a glass of milk without swallowing it.
Simply; swish it around in your mouth and spit it out to reduce the pain.
Don't give them carbonated beverages like cola or beer, as this will worsen things.
Venison Health Benefits
In addition to being lower in fat and calories than beef, venison contains a wide range of nutrients, including enough niacin, zinc, and vitamin B12 to keep you going throughout the day.
Furthermore, local venison is regarded- as a more sustainable source of protein that can aid in controlling deer populations, preventing harm to woodlands and agriculture.
It's also simple to prepare, flavorful, and a terrific way to boost the nutritional content of just about any meal.
Helps you lose weight: Deer meat is high in protein and low in calories, making it an excellent addition to the diet if you're trying to lose weight.
Ghrelin, the hormone that stimulates hunger, can be reduced by eating protein.
Aids in preventing anemia: Anemia is a disorder in which your body lacks sufficient healthy red blood cells.
Anemia symptoms include fatigue, dizziness, pale complexion, and a rapid heartbeat.
Although there are a variety of circumstances that can cause anemia, deficiencies in critical vitamins and minerals are widespread.
Vitamin B12 insufficiency and iron deficiency can decrease red blood cell synthesis and contribute to anemia.
Immune System Stimulation: Zinc is abundant in deer meat, with just one three-ounce meal providing 29% of your daily zinc needs.
Zinc is an essential element necessary for many parts of your health, especially your immune system.
Contains a range of essential b vitamins: Venison contains many B vitamins.
Both B12 and 6 are present, and these nutrients are crucial for the ever-so-slightly important aspect of brain health (among other things).
As a result, deficiency can affect mood and cause depression symptoms.
B vitamins are essential for energy production and can affect everything from our hair to our digestion.
Is venison better than ground beef in terms of health?
Yes, it is correct.
It also has a higher protein content than other red meats.
This chili is undoubtedly hearty, as high protein foods make you feel satisfied.
Venison has a low saturated fat content, almost as low as salmon!
It's mineral-rich and cholesterol-free.
Incorporating venison into your diet will help you lower cholesterol while maintaining a high protein intake.
Conclusion
It's a hard- source of protein that can aid weight loss, improve cognitive health, increase immunity, support muscle growth and recovery, and avoid anemia.
Venison is a healthful addition to a well-balanced diet that can be readily introduced into some of your favorite recipes: from soups to sandwiches and beyond, thanks to its rich and distinct flavor.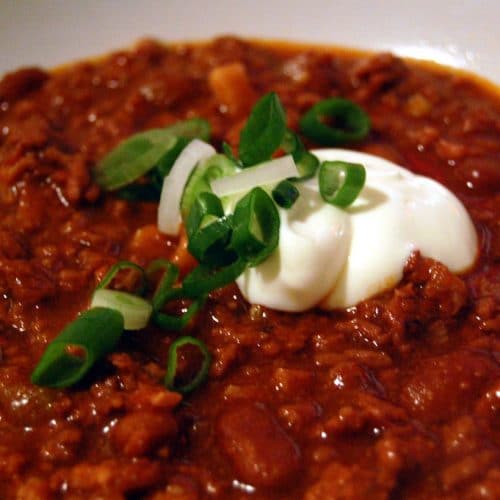 Venison Chili Slow Cooker
Venison is a type of meat from any animal with antlers, such as deer, elk, caribou, or moose.
Ingredients
1

pound

venison ground

1

quarter teaspoon

salt

1

quarter teaspoon

pepper

1

quarter teaspoon

onion powder

1

cup chopped

white onion

1

minced

jalapeno

1

diced aneheim

pepper

1

chopped yellow

bell pepper

1.25

ounce Mccormick

Chili Seasoning

1

quart

water

14.5

oz. chopped

tomatoes

15

oz. drained

black bean

15

oz. can drain

kidney beans

6

oz.

Tomato paste
Instructions
Brown the venison in a non-stick skillet over medium heat, seasoning it with salt, pepper, and onion powder as it cooks.

In the slow cooker, place the meat.

Combine the remaining ingredients in a mixing bowl.

Stir it well

Set the slow cooker for 8 hours on low.

Serve the chili in bowls with cheese and green onions on top and cornbread on the side.

Dig in!
Video
Nutrition
Calories:
440
kcal
Carbohydrates:
56
g
Protein:
38
g
Fat:
9
g
Saturated Fat:
3
g
Polyunsaturated Fat:
1
g
Monounsaturated Fat:
1
g
Cholesterol:
73
mg
Sodium:
437
mg
Potassium:
1700
mg
Fiber:
19
g
Sugar:
9
g
Vitamin A:
4711
IU
Vitamin C:
23
mg
Calcium:
109
mg
Iron:
10
mg
---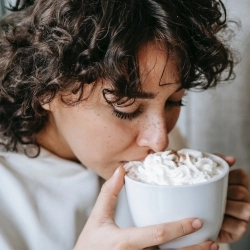 Latest posts by Grace Lambert
(see all)