Wondering what to cook for dinner?
Baking meatloaf is a great way to get that perfectly cooked meal on the table in under an hour.
Does that sound like an idea?
Here is the best part: you can pair baked meatloaf with almost anything.
So, how long to bake a meatloaf?
It takes approximately 45 minutes to bake a 1-lb meatloaf at 350 degrees F or until the internal temperature reaches 160 degrees F.
The same meatloaf size cooks for about 30 minutes at 425F.
Thus, meatloaf baking time depends on its thickness and oven temperature, provided it reaches 165F.
You don't require complex meatloaf recipes, provided you know how long to bake meatloaf.
However, these tips we share on tender and juicy meatloaf will come in handy, be sure to learn them.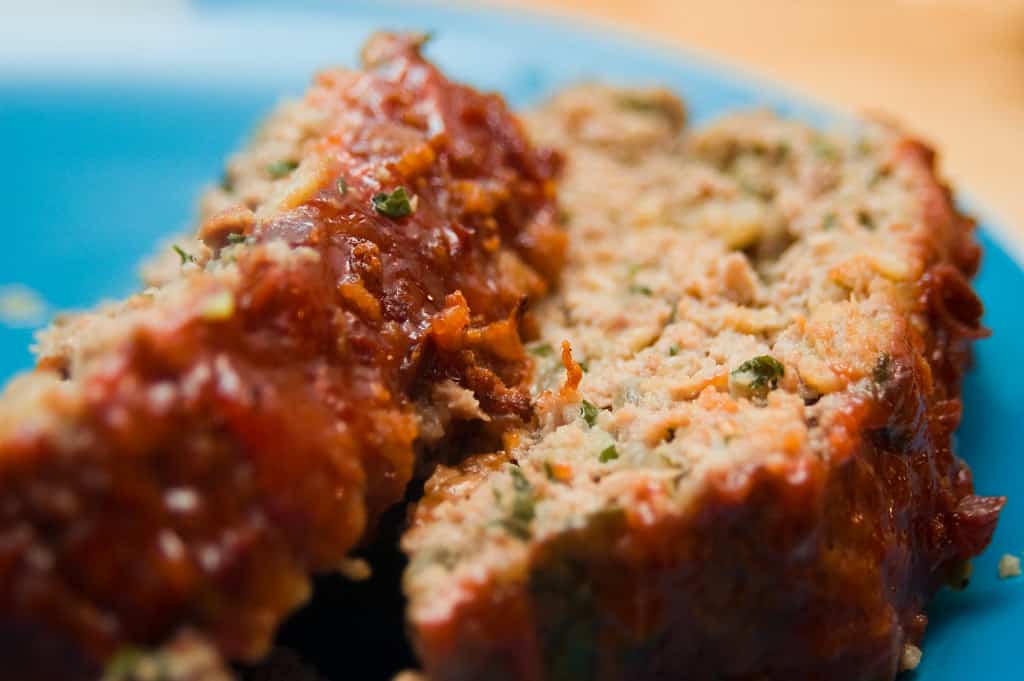 What temperature should you bake meatloaf?
The recommended oven temperature for meatloaf is between 350F and 425F, resulting in tender and juicy meatloaf full of flavors.
A higher temperature setting will dry out the crust or burn the outer part before the interior is well done.
However, you can bake at slightly lower temperatures provided it reaches a final internal temperature of 165F.
Preheat the oven to 350F, or start it at 425F and significantly lower it to 350F with your meatloaf inside.
Setting the oven at 350F and immediately popping in your meatloaf means the cooking starts at a temperature lower than 350F.
This may result in a dry and bland meal.
Do you cook meatloaf at 350F or 400F?
350F to 375F is the standard cooking temperature for tender and juicy meatloaf—it takes about 30 to 40 minutes per pound.
This gives the chicken time to cook evenly and absorb the spices resulting in a tender and flavor-dense meatloaf.
Here is an example if you're still wondering how long to cook 1 lb meatloaf at 350.
A 4lbs. meatloaf will take approximately two and a half hours to cook and reach an internal temperature of 160F at 350F oven heat.
How long to cook 1 lb meatloaf at 375?
A 4lbs. meatloaf will take about one and a half hours to cook thoroughly at 375F.
That's approximately 25 minutes per pound until it reaches 160F internal temperature.
Baking meatloaf at 400F takes about 20 to 30 minutes to reach 165F depending on the meat thickness—with a 5 minutes rest time.
For example, a 2lbs. medium-sized meatloaf should be ready in less than an hour.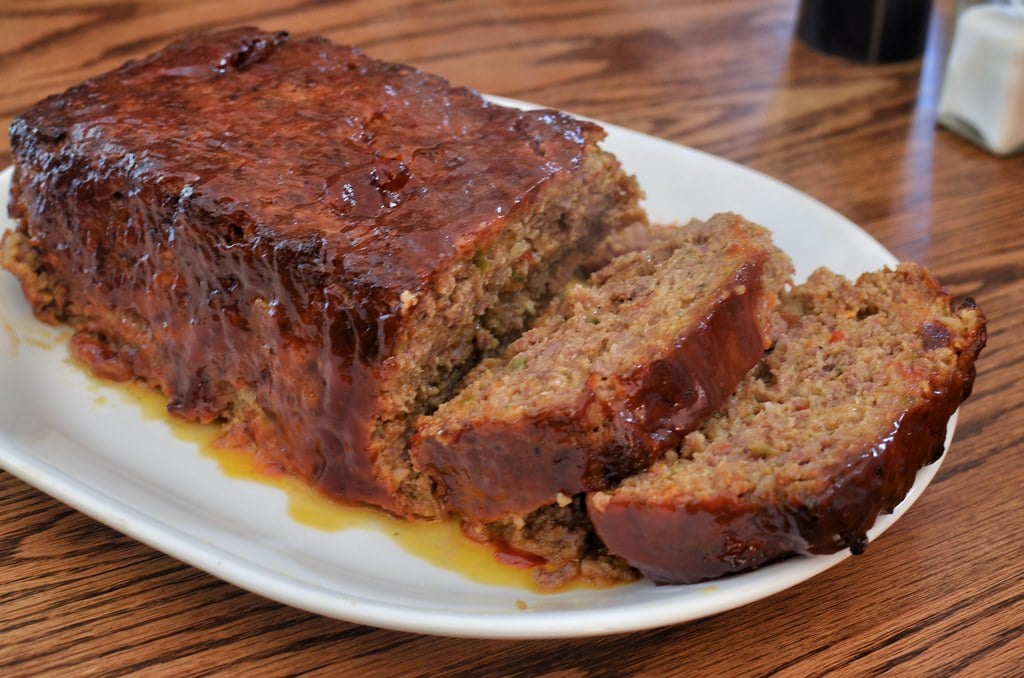 What is the internal temperature of a well-done meatloaf?
Regardless of the cooking method, be it oven, pan frying, or baking, consider the final meatloaf temperature.
The internal temperature of the meatloaf should be at 165F when completely done and safe for consumption.
An instant digital thermometer is the most effective way to measure meatloaf doneness.
Baking time depends on the shape, thickness, weight, and the desired outcome provided the internal temperature reaches 160F with a 3-5 minute rest—to a final 165F.
For instance, how long to cook a 4-pound meatloaf takes longer than baking a 1 lb. thin meatloaf.
How do I know when my meatloaf is well-done?
There are several ways to tell a cooked meatloaf; a digital thermometer inserted at the thickest part of your meatloaf is the most effective and accurate method.
Once the internal temperature of the meatloaf reaches 160F, remove it from the heat source to stand to a final 165F.
However, are you wondering how to check if meatloaf is done without a thermometer?
Here is your answer;
Press with your fingers: Gently poke the thickest part of your meatloaf; if firm to the touch, your meatloaf is well-done. If the texture is soft, extend the cooking.
Metal fork: Insert a metal fork at the thickest part of your meatloaf; if it slides without resistance, your meatloaf is well-done. In case of resistance, let the meatloaf cook a bit longer.
Cake tester: Insert a metal cake tester at the center of the meatloaf and press it against the inner parts of your wrist. If hot, then your meatloaf is done. A cold or slightly warm feel indicates the meatloaf needs to cook longer.
Tips for tender and juicy oven-baked meatloaf
The meat: You can use ground lamb, beef, veal, or pork—mixing two or three meat types intensifies the flavor of your meatloaf. Ensure the ground meat has fat to avoid drying out quickly; ideally, 85% lean and at least 10% fat.
The veggies: Dice your favorite veggies into tiny cubes and Sautee them before mixing with the meatloaf. This enhances the flavors and locks in moisture to give that juicy outcome.
The glaze: Twist the flavors by replacing water with ketchup or BBQ sauce of choice. While cooking, the saucy concentrate creates that creamy and deep savory flavor that combines with the meatloaf is a new taste level.
The filler: The function of breadcrumbs is to help hold the meatloaf together and keep it moister. You may want to soak the breadcrumbs in milk or broth to prevent them from absorbing all the moisture from the meat and veggies. Be wary of the mixing ratio.
Don't over-compress the meat: Mix the ingredients just enough to hold them together but avoid over-mixing. Over compressing will require prolonged cooking time leading to a dry, tough, and crumbly meatloaf.
Cover your meatloaf: Baking the meatloaf covered in foil helps retain the moisture allowing even cooking. Bake meatloaf uncovered for the last 20 minutes of cooking to get a crispy outer crust.
Rest the meat: Resting the meatloaf for about 10 minutes before carving allows the juices and temperature to even out throughout the loaf, giving tender results.
How do I store meatloaf leftovers?
Meatloaf leftovers taste better and can be used in several ways.
Here are tips to correctly store them;
Package well: To maximize the shelf life of cooked meatloaf and retain its quality, wrap tightly with aluminum foil or plastic wraps. This helps prevent moisture accumulation that hastens spoilage.
Portion: Store your leftover in desired sizes for easier thawing. Wrapping individual slices will ease reheating.
Refrigerate: Properly stored meatloaf in airtight containers can last up to 4 days in the fridge. This is the best method for meatloaf containing sauces.
Freeze: Freezing leftover meatloaf will further prolong its shelf life. Wrap in freezer-safe wraps to prevent freezer burns and retain quality for up to 3 months.
How do you reheat leftover meatloaf?
There are three ways to reheat meatloaf;
In the microwave: Place the meatloaf in a microwave-safe dish, cover with a lid and reheat for about 5 minutes.
In the oven: Preheat the oven to 350F. Reheat for about 20 minutes, flipping sides at 10 minutes intervals. Wrap your meatloaf in foil and place it on an oven-safe dish in the preheated oven.
In a skillet: Thaw the leftover meatloaf and place on a large pan over low heat—cover to lock in the moisture. Brush with some melted butter, reheat for about 10 minutes, and avoid burning or overcooking.
Frequently Asked Questions (FAQs)
Do I need to rest my meatloaf?
Yes, resting your meatloaf ensures even juice distribution and cooking enhancing deep flavors.
It's that period when you turn off the heat source allowing cooking over to a final internal temperature of 165F.
Slicing the meatloaf before resting may cause the juices to seep out, leaving you with a drier meatloaf.
Preferably, cover the meatloaf in foil while resting.
Why did my meatloaf turn out dry and tough?
There are several reasons why your meatloaf may turn out tough.
First, if your ground meat is 100% lean, it will dry out unless you add enough gravy or broth.
Secondly, over-mixing the ingredients results in a tough texture requiring prolonged cooking time and dries your meat.
Why is my meatloaf soggy?
A mushy meatloaf is mainly a result of the wrong ingredients-to-meat ratio.
For instance, adding too much water or dry breadcrumbs leads to a moist meatloaf texture.
A quick fix is to increase the amount of meat.
How long to cook 2 lb meatloaf at 350?
A 2 lb meatloaf should cook for around 30 minutes per pound at 350F.
The actual cooking depends on the shape and thickness of your meatloaf.
Therefore, cook for 50 to 60 minutes or until the internal temperature reads 160F.
What's in a meatloaf?
Ground meat, either beef, pork, or veal, is meatloaf's main ingredient.
The ground meat should be at least 10% fat and 90% lean beef—this allows for a tender outcome.
There are bread crumbs, eggs, veggies, and seasonings to intensify the flavor and hold the meatloaf in shape.
Ketchup is the most common sauce, but you can use other sauces that titillate your buds.
The bottom line
Meatloaf is perfect for pretty much every occasion.
It can serve as a main dish, alongside a side dish and gravy.
The great thing about meatloaf is that it lasts for days in the refrigerator and even longer in the freezer.
That means you can make it a week (or more) before you need it, which cuts down your catering prep time.
Luckily, the provided tips will render a tender and moist meatloaf for your family and friends.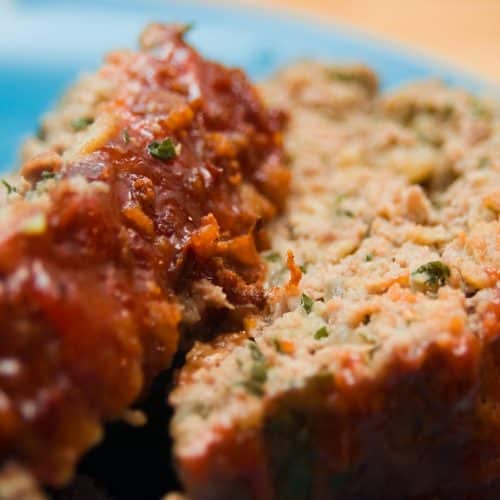 How Long To Bake Meatloaf?
Baking meatloaf is a great way to get that perfectly cooked meal on the table in under an hour.
Ingredients
1

tablespoon

butter

¼

cup minced

onion

2

cloves

garlic

minced

1 ½

teaspoons

salt

1 ½

teaspoon freshly ground

black pepper

2

pounds

extra-lean ground beef

3

slices

bread

toasted and crumbled

7

crushed buttery round

crackers

1

egg

lightly beaten

3 ½

tablespoons

sour cream

1 ½

tablespoon

Worcestershire sauce

15

ounces

tomato sauce

divided

¼

cup

milk

3

tablespoons

ketchup
Instructions
Preheat the oven to 350 degrees F (175 degrees C).

Melt the butter in a skillet over medium heat, and cook onion and garlic until onion is soft and translucent about 5 minutes.

Remove from heat, and season with salt and pepper.

Combine onion and garlic, beef, crumbled bread, crushed crackers, egg, sour cream, Worcestershire sauce, and 1/2 a can of tomato sauce in a large bowl.

Mix until well combined.

Gradually stir in milk, one teaspoon at a time, until the mixture is moist but not soggy.

Transfer the mixture to a 5×9 inch loaf pan.

Bake uncovered in the preheated oven for 40 minutes.

Increase oven temperature to 400 degrees F (200 degrees C), and continue baking for 15 minutes to an internal temperature of 160 degrees F (70 degrees C).

Mix the remaining tomato sauce and ketchup in a small bowl.

Pour the meatloaf over the top, and continue baking for 10 minutes.
Nutrition
Calories:
402
kcal
Carbohydrates:
20
g
Protein:
44
g
Fat:
16
g
Saturated Fat:
7
g
Polyunsaturated Fat:
1
g
Monounsaturated Fat:
6
g
Trans Fat:
1
g
Cholesterol:
158
mg
Sodium:
1499
mg
Potassium:
1055
mg
Fiber:
3
g
Sugar:
8
g
Vitamin A:
617
IU
Vitamin C:
8
mg
Calcium:
99
mg
Iron:
6
mg
---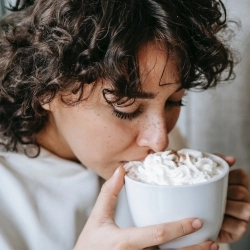 Latest posts by Grace Lambert
(see all)