I love toaster ovens, they are efficient, easy to use, and can handle a wide variety of different recipes or cooking situations. From pizza to chicken nuggets, bagels to sourdough, a toaster oven is a full feature addition that I feel every kitchen can benefit from.
Sometimes, however, I do miss the convenience of popping a bagel into my upright toaster, pressing a button, and walking away safe in the knowledge that regardless of what happens a perfectly toasted bagel would be sitting in the up position when I returned. So, when I had the chance to take review the Hamilton Beach Toastation 2-in-1 Toaster Oven, I knew from the outset that I was going to be a fan of this appliance.
Long Slot Toaster, Stainless Steel, 60 Minute Timer and Automatic Shut Off
Large Capacity

Fits 9" pizza

Two rack positions

2-in-1 Oven and Toaster
What comes in the box?
The packaging on the Hamilton Beach Toastation was thick and protective, with a high gloss branded box, and sturdy foam supports inside. Inside the box I found:
1 Hamilton Beach Toastation 2-in-1 Toaster Oven & Toaster
1 oven rack
1 baking tray
1 user's manual
How does the toaster oven look and feel?
The Hamilton Beach Toastation is a well-made appliance if a bit smaller than I was led to believe for promotional/advertising photos. It sits nicely on a countertop at 12.05 x 17.8 x 10.24 inches and doesn't take up nearly as much counter space as a larger convection style toaster oven might.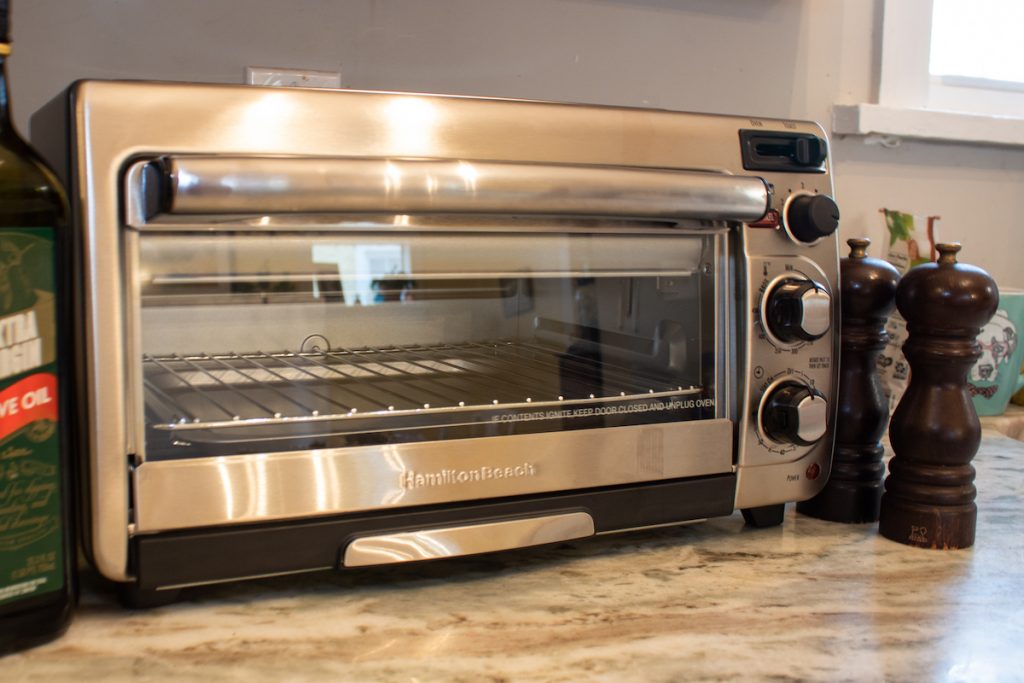 It has a front-loading glass door, with a top-mounted handle as well as a toast slot on the top of the appliance. The analog control panel is mounted to the right of the oven door, with three adjuster knobs and 1 switch that allows you to switch from the toaster setting to the oven setting. When you engage the oven setting the toast slot closes, with a sliding metal door obscuring the path and closing of the oven to keep heat in. When you engage the toast setting the door sliced open allowing a path for bread, bagels, or other toastable items.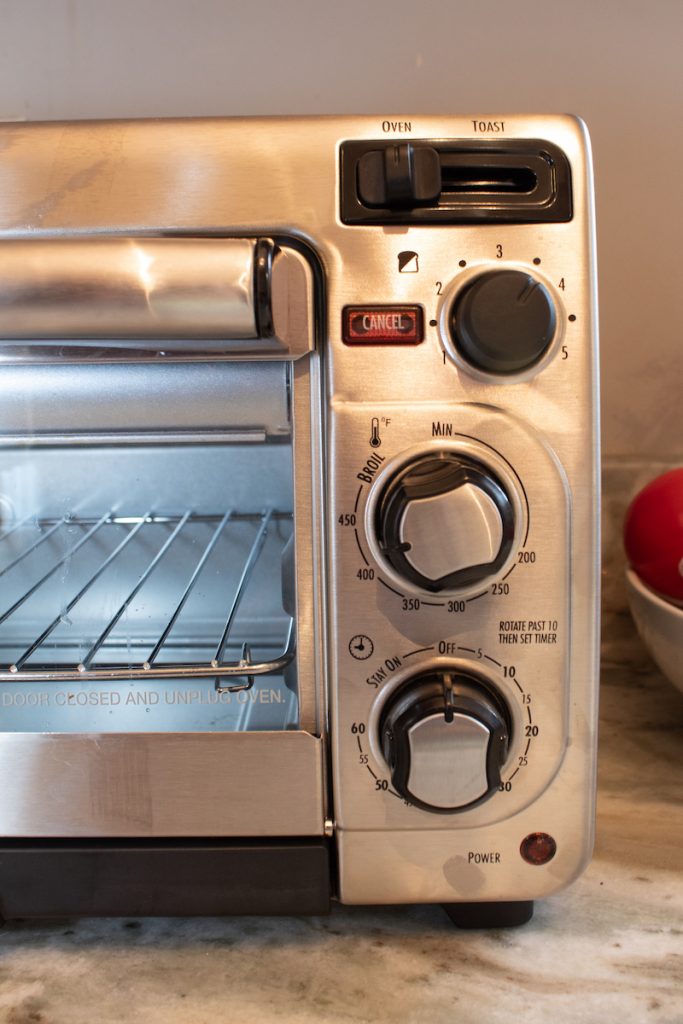 The front of the oven is brushed stainless steel, and the back/body of the appliance is matte black sheet steel with a small vent to the right side of the machine. It comes equipped with rubber spacers attached to the back of the toaster to keep it properly spaced from walls or other appliances as well as a removable crumb tray at the base of the door assembly.
The control three control knobs are well made, and the function panel is easy to read and operate. The toast shade selector allows you to select the desired doneness of your toast/bagel, while the Oven Controls allow you to select your time up to 60 minutes and temperature. The oven does have a "stay on" option, which is nice for longer cooking times or when you're cooking multiple batches of a recipe, and the temperature function goes all the way to "Broil" which is great for melting cheese or lightly toasting a sandwich.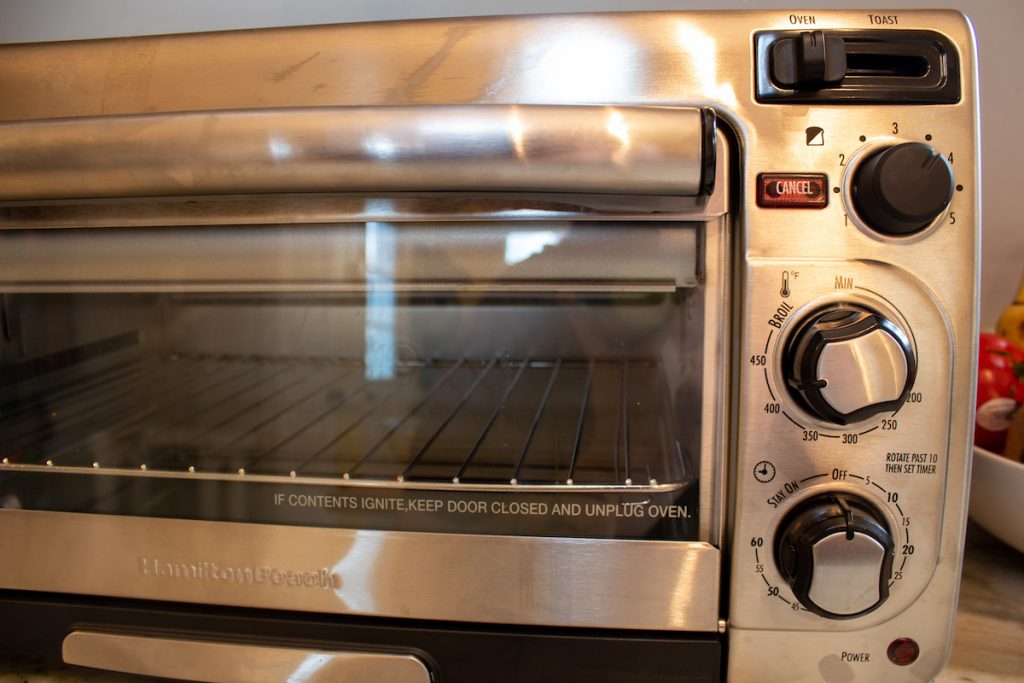 Testing the toaster function
I love bagels, they are quick and easy breakfast, that provides me with a ton of energy to start my day. They are handheld so they work well when I'm on the go, and once toasted a bagel will taste great if I get distracted and can't eat it for a bit. Plus with a shmear of cream cheese, it packs a punch of carbohydrates and protein that leaves me full without weighing me down!
Toasting an everything bagel
The toasting slot fits 2 slices of bread, 2 bagel halves, or 2 English muffin halves. By switching the mode selector from oven to toast, you open the toaster door and allow access to the toaster.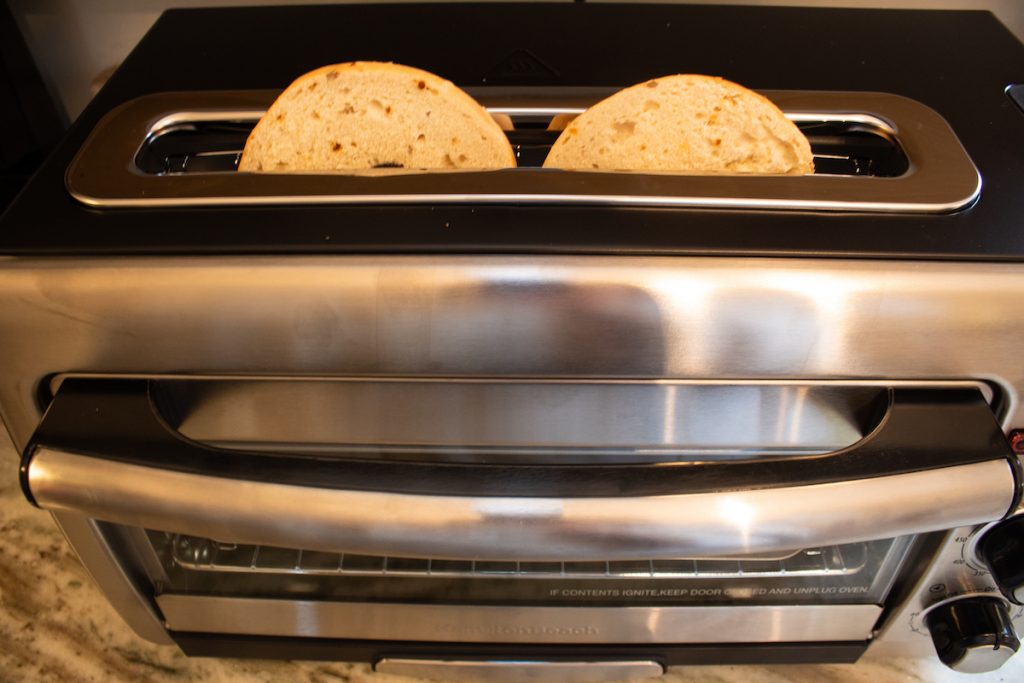 I split an everything bagel in half, popped it into the toasting slot, set the toast shade selector to 4 (I like a slightly darker toast), and sat back to wait. While I was waiting, I grabbed a new high protein "Greek Style" cream cheese from the refrigerator, a glass of OJ, and got ready to prepare my breakfast!
The results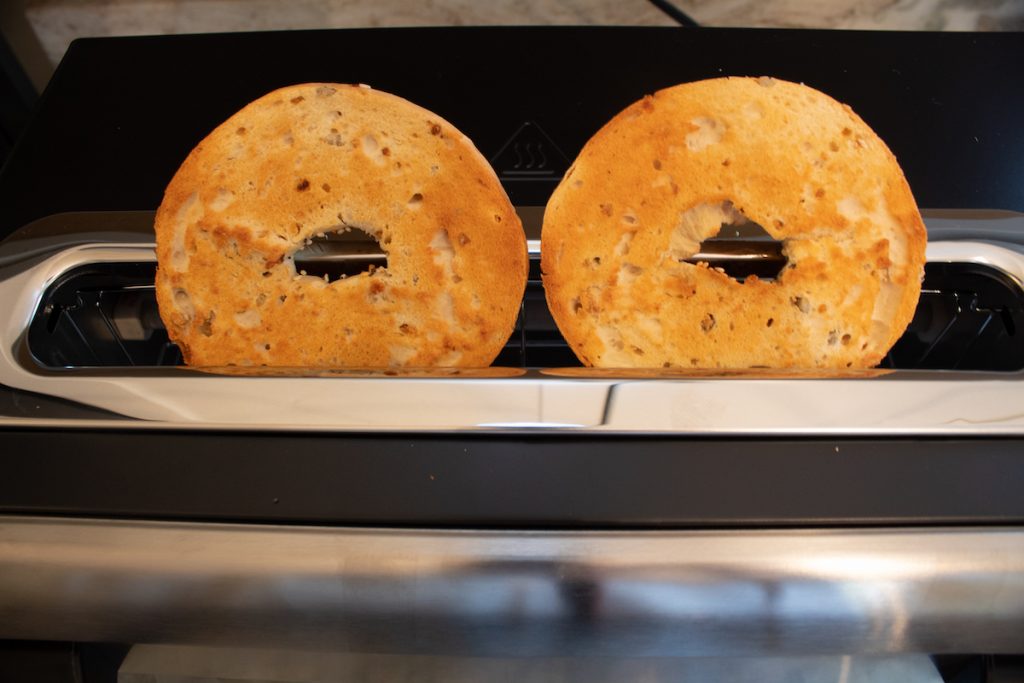 After just under 4 minutes my everything bagel was ready. Even though it was a touch "blond" for my tastes, I couldn't wait any longer and got to the business of spreading some cream cheese on my breakfast.
This was an awesome bagel, and the toast was absolutely perfect. It was crispy, crunchy on the outside, and fluffy in the center. The Hamilton Beach Toastation took a mediocre, grocery store bagel and turned it into something great. While it wasn't an earth-shattering, hand-made, New York-style bagel, it was really tasty and a great way to start the day.
My favorite part of the entire process was that if I had forgotten about my bagel, walked away, or gotten held up with some other part of my morning routine, it would have simply popped up and waited for me without the worry of burning or overcooking.
Testing the toaster oven function
Testing the toaster function on the Hamilton Beach Toastation was very straightforward. Once I determined it was capable of adequately toasting two slices of bread, bagels, or English muffin, I had discovered all I really needed to know to move forward. The oven setting on the Toastation is much more versatile of the two cooking functions and as such deserved a deeper dive.
I wanted to test three different items in the toaster to determine its ability to not only function as a toaster but also as an oven, hopefully helping expand the capabilities of your kitchen if you choose to purchase it. I chose to test curly fries, a frozen pizza, and chicken nuggets in the Hamilton Beach Toastation, and I am happy to report that it handled each test with ease.
Roasting chicken nuggets
Keeping a bag of chicken nuggets on hand can really save the day when you want to put together a simple snack without a lot of hassle. While these are definitely not gourmet dining options, there is little more satisfying than a big plate of chicken nuggets and some dipping sauces on a lazy weekend afternoon.
Most frozen chicken nuggets can be prepared in either the microwave or the oven, and any kid can tell you, that while the microwave may make them faster, the oven produces far crispier, tastier nuggets, it also takes forever to preheat. Luckily toaster ovens don't have any of these issues of a microwave and preheat in no time at all.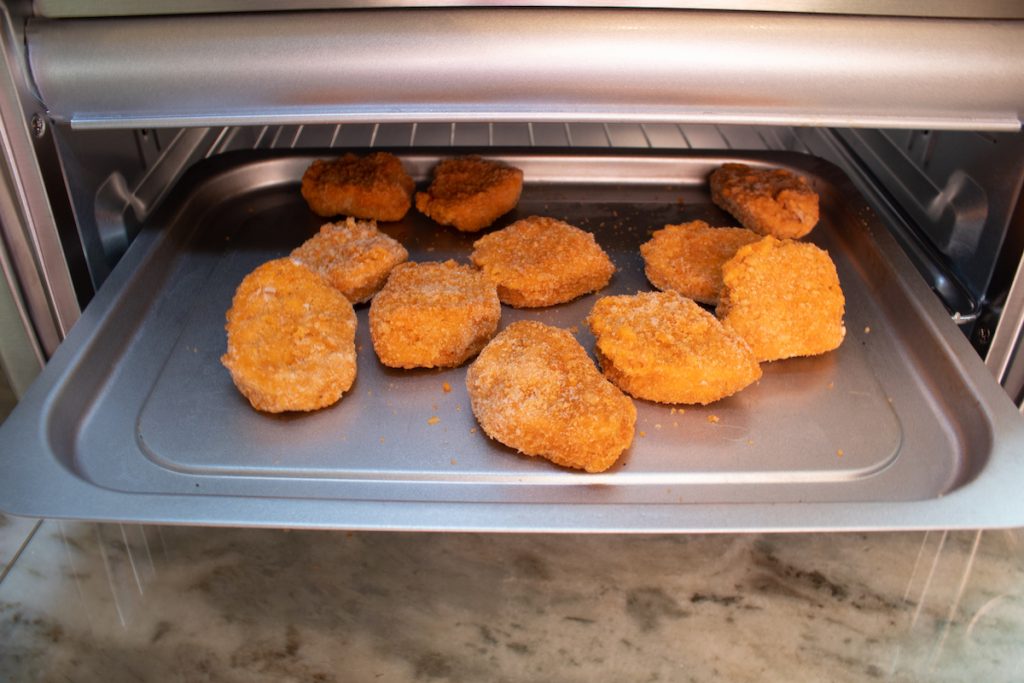 To begin I set moved from the toaster to the oven setting and set the temperature to 350°F. I set the timer to 15 minutes and loaded the baking pan with a handful of frozen chicken nuggets.
The results
After 15 minutes had elapsed I carefully removed the baking pan from the oven and got down to testing the quality of these nuggets. Overall I can say they were exceptional as far as a premade, frozen chicken nugget goes.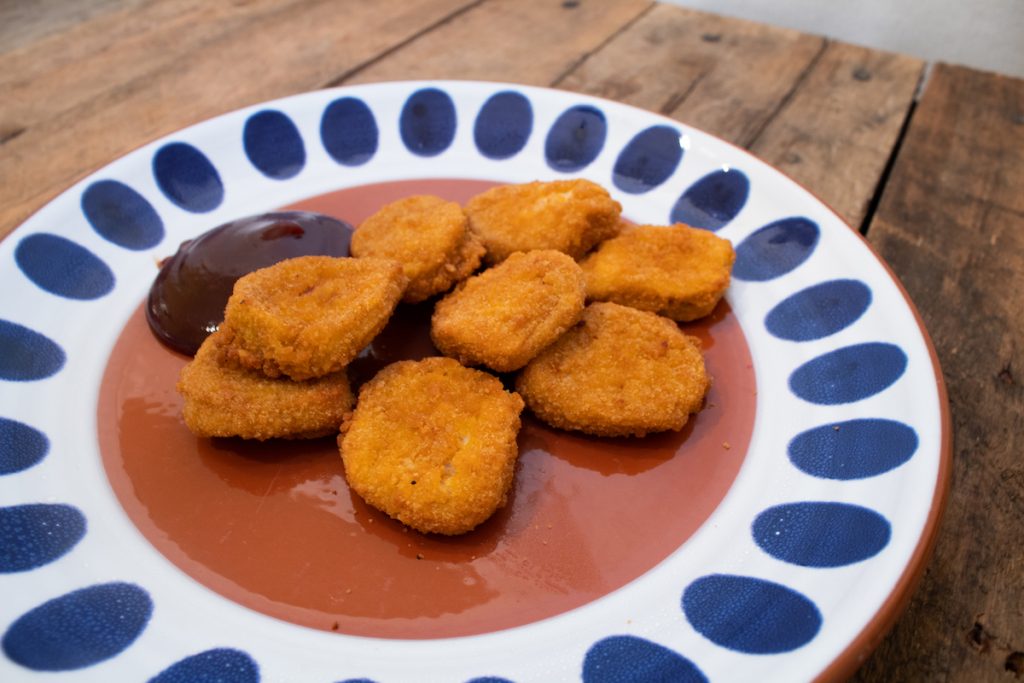 The oven heated quickly and evenly, producing a crispy and tender chicken nugget that wasn't soggy or steamy, a problem I've found with nuggets made in the microwave. The Toastation could have handled a much larger amount of nuggets than I chose to cook and would have been able to continue to crank out more chicken nuggets if you needed to work in batches.
Baking frozen personal pan pizza
One of the nicer features of a toaster oven is the ability to bake an entire frozen pizza without having to turn on the oven. A toaster oven though smaller in size, is usually much more energy-efficient than a large traditional oven, and if you are cooking for 1 or 2 people a smaller frozen pizza is usually more than enough to satisfy.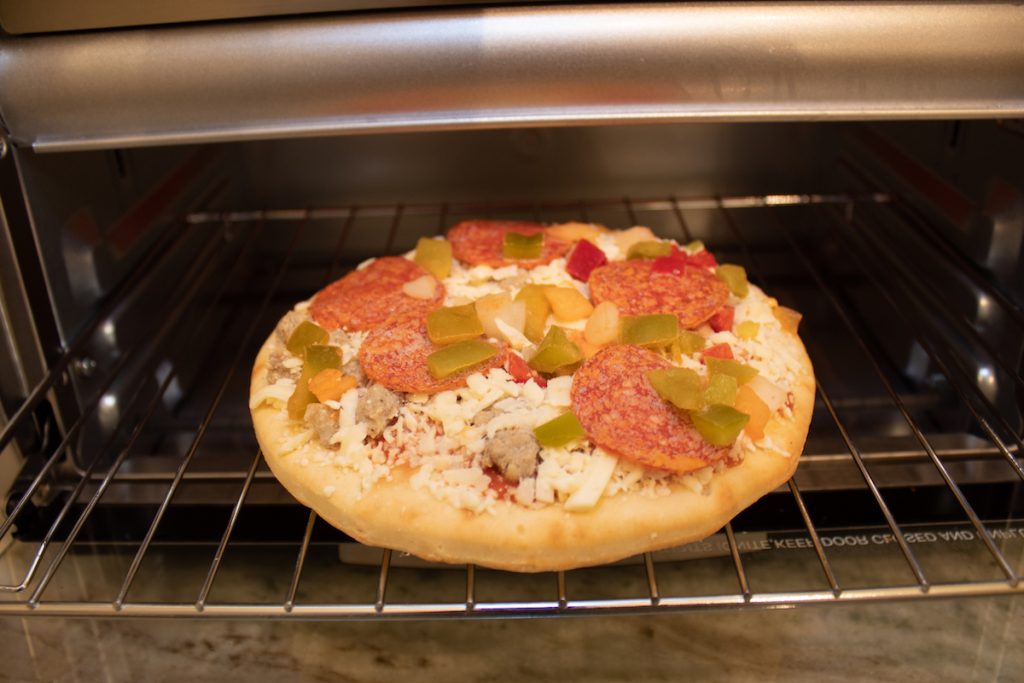 To prepare my frozen pizza I made sure the cooking function was set to oven mode, set the temperature control to 375°F, and the time to 20 minutes. I popped the pizza onto the oven rack, closed the door, and went outside to play fetch with my dogs while dinner cooked away.
The results
After 20 minutes of vigorous exercise for myself and my pups, I returned to a perfectly cooked personal pan pizza! I will say that I am very glad I decided to reduce the suggested cooking temperature from 400°F to 375°F. I intuited that because the heating elements were closer to the pizza and the oven chamber was much smaller than a traditional full-sized oven that reducing the temperature might make for a smoother cooking process and boy was I right.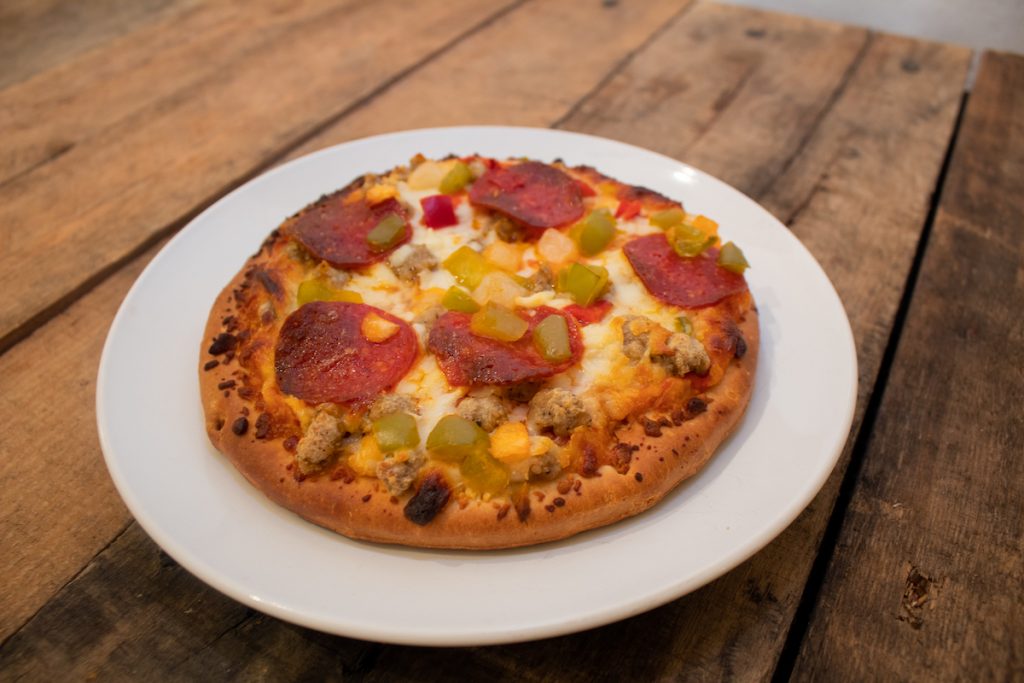 The pizza I chose to prepare was much smaller than the 9″ size limit listed in the user's manual, but it was more than enough for 1 person. It is important to note that reheating pizza leftovers in this toaster oven will also be a snap!
Baking curly fries
Cooking curly fries in a toaster oven is a snap and a super-easy way to prepare a side dish for dinner without having to dirty up a pan or take up valuable burner space.
To prepare my curly fries, I set the oven temperature dial on the toaster oven to 375°F and the timer to 20 minutes. I emptied a third of a bag of frozen fries onto the baking tray and popped it into the oven, and got down to preparing the rest of my dinner while fries cooked.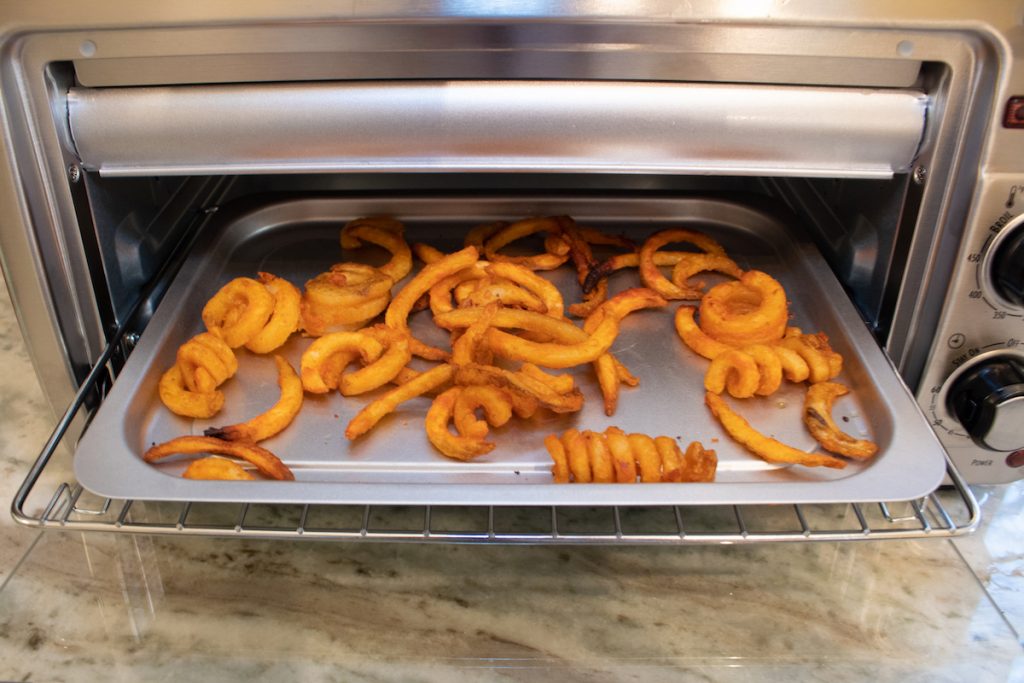 The results
Oven-baked fries are never quite as good as deep-fried french fries, but considering they make much less of a mess to clean up, I'll always go with an oven-baked fry simply for the ease of preparation.
These curly fries were absolutely delicious, crispy, and hot with a fluffy potato center, they went perfect with a pan-roasted steak and some easy sauteed vegetables. The best part was the ease of cleanup, I didn't have to worry about washing a big baking tray, and I saved a ton of energy by using my smaller toaster oven instead.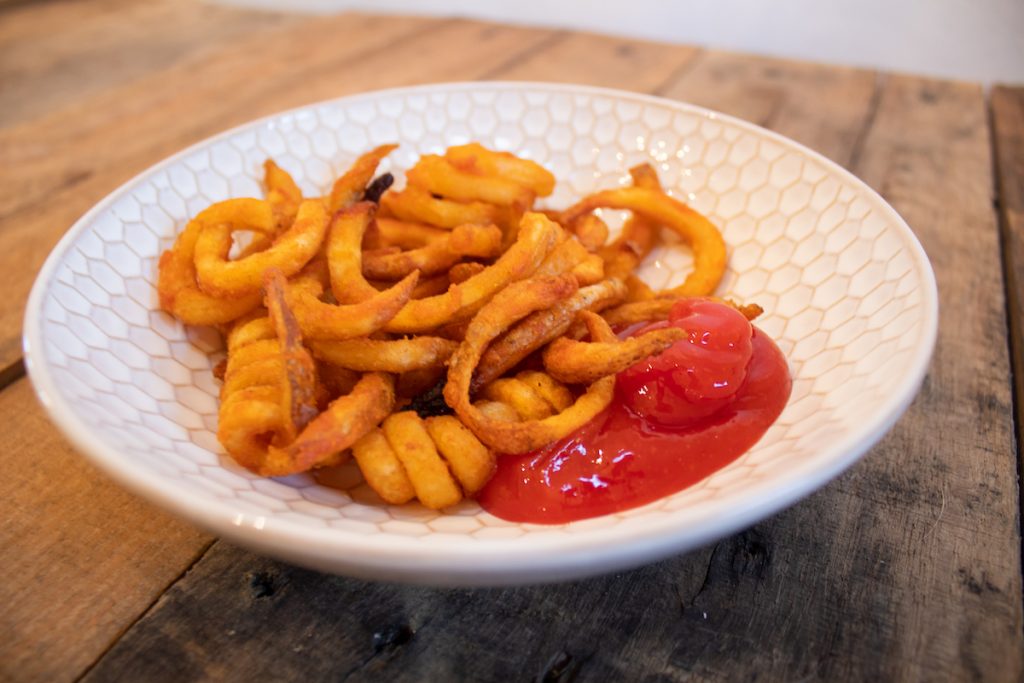 How easy is the toastation to clean?
With a simple design and an easily removable crumb tray, the Hamilton Beach Toastation is really easy to clean and maintain. Both the oven rack and the baking tray are small enough to fit in most sinks, and if you clean them after every use this oven will last you for years to come.
I like to wipe the inside of the oven down with a warm wet towel after every use, because of it's smaller size compared to a traditional oven, if you plan on using this product frequently it may build up grease and sediment quickly. By wiping the inside of the oven down and emptying the removable crumb tray regularly, you'll avoid the chance of a fire or flare up from built-up grease and crumbs.
The user's manual did not explicitly state that the removable parts like the oven rack or baking tray arent dishwasher safe, but regardless I would recommend handwashing all parts with a non-abrasive sponge and cleaner to extend the life of the product.
Pros & cons
As with any potential appliance purchase, it's important to know as many pros and cons as possible before deciding on one choice. There's little worse than buyer's remorse with an appliance, and while you can always return something that doesn't work right for you, it's nice to get the best option the first time around.
While the Hamilton Beach Toastation 2-in-1 Toaster and Oven is a great toaster and will make a great addition to your kitchen, there are some drawbacks and also some high points I would like to point out.
Pros
With both an oven function and a traditional 2 slice toaster, this product handles a number of versatile cooking functions with ease.
Its small size takes up little counter space while offering several great cooking options saving time and money!
Capacity. While this oven is definitely small in size it still can fit a ton of food. You can fit a full bag of fries or nuggets onto the baking tray and the extra-wide top bread slot fits two slices of bread, bagel, or English muffins.
Cons
Because you have to select either the oven or toast function you cannot use both at the same time. I know this is a small thing, but I would love to crisp up some bacon while I toasted my bagel or bread for a club sandwich simultaneously.
High price tag. At around $100 for this model, it is definitely on the high side for a toaster oven, especially considering there are so many better options available at this price point.
I would expect a digital control or interface at this price point, and while analog controls are classic and easy to use, I always appreciate a good digital display.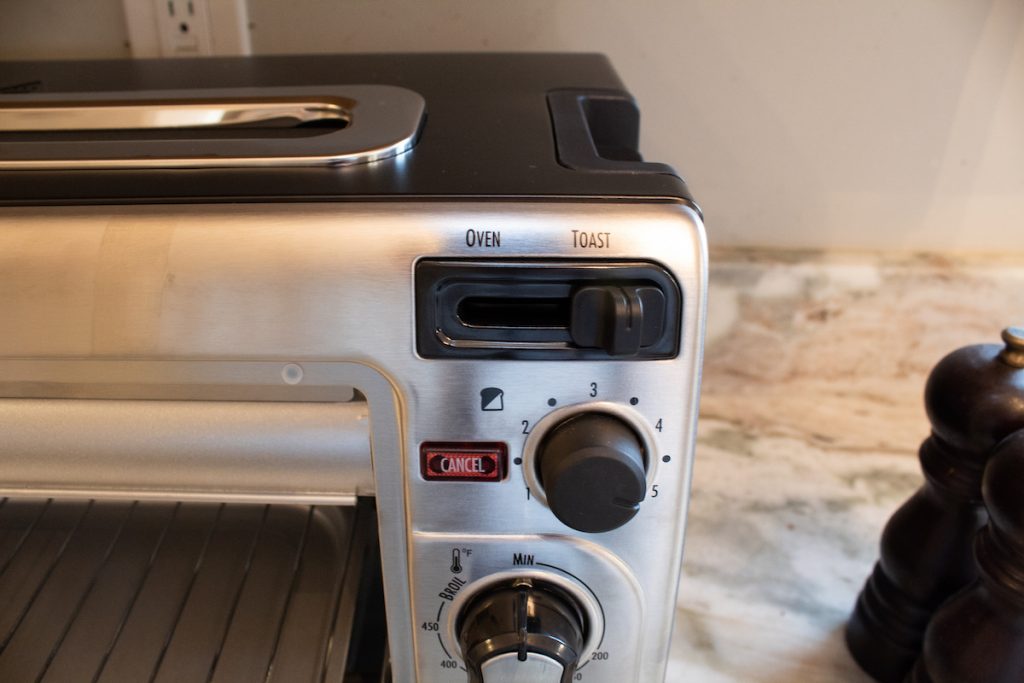 Verdict
After a week of using and testing this toaster and oven, I can confidently recommend this product to anyone looking to add a conventional toaster oven to their home kitchen. Moreover, because of the added vertical 2 slice toaster function, this appliance can easily replace your toaster, without having to give up the convenience of 1 button operation.
This oven can handle everything from reheating a few pizza slices to baking nuggets, or mozzarella sticks for the big game. All with little to no cleanup and saving a ton of energy along the way.
---