If you're looking for a way to organize your kitchen a bit better, then one option is to look for a place for your microwave, toaster oven or other small countertop that wont' take up precious counter space.
I already wrote about one option, which is to mount the oven on a rack on the wall, but sometimes you might not want that. The choice is scarce, but after a bit of research I can recommend two options based on your preferences.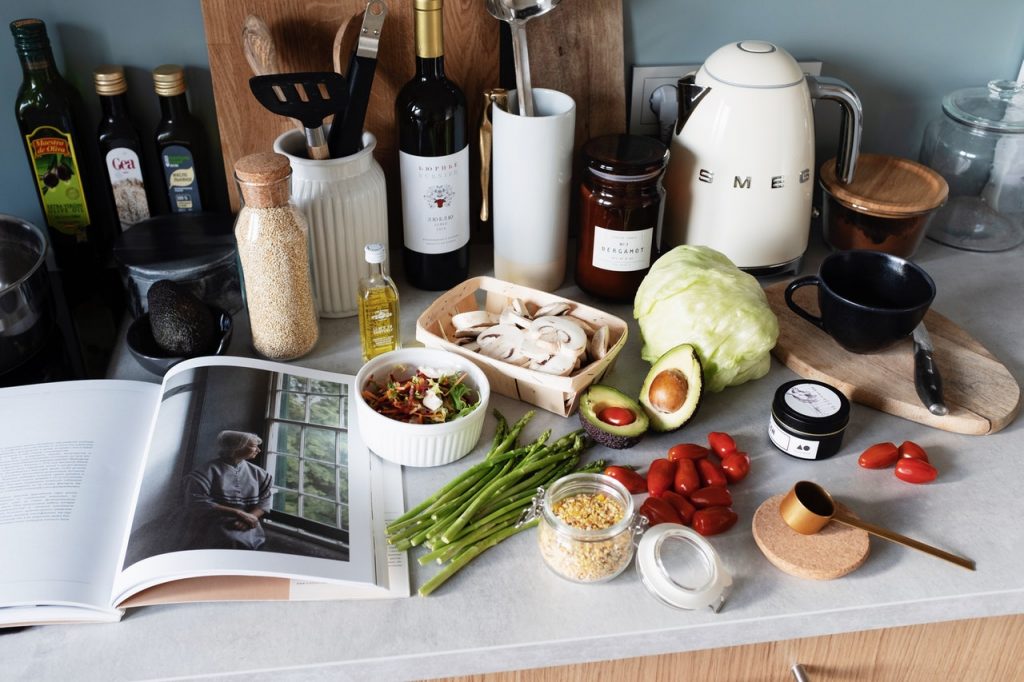 Countertop Microwave Stand
Yikko Microwave Oven Rack Shelf Expandable Kitchen Counter Storage Organizer Microwave Stand Toaster Oven Rack with Hooks Carbon Stainless Steel Easy Assemble (Black)
【Adjutable Microwave Oven Shelf】- This kitchen counter rack can be expanded from (15.7"~23.6") in length, and you can also change the height of the panel according to your needs. Easy to store...
【Multifunctional Kithcen Organizer shelf】- With its H structure design, this microwave oven rack shelf is very sturdy and features heavy capacity.The top shelf can be used for daily kitchen...
【Sturdy & Durable Design】 — Made of strong thick carbon steel with ecological black paint finish, this rack is heat resistant, water resistant and rust resistant, plus the 4 protective fooot...
【3 Extra Side Hooks Provided】- There are 3 removable hooks comes with this kitchen shelf, you can hang some oven hand gloves, spatula or scissors if needed.
【Easy Assemble】- Each of the kitchen organizer shelf comes with a specific instruction manual, it's very easy to assemblt this kitchen rack. Any issues with the shelf, please feel free to contact...
If you're looking to organize your counter a bit without buying extra furniture, then this one is the clear choice. You can adjust the width of the stand to accomodate most microwaves or toaster ovens save the largest ones. The narrowest setup is 15.7″ and widest is 23.6″.
Of course, if you don't have both a microwave and a toaster oven, you can fit anything on it, be it spices, toasters or anything else, and it looks pretty good. The colors are black or white and it comes with hooks on the side to hang some extra stuff.
Standalone Microwave Stand
Sale
Bakers Rack Microwave Stand Kitchen Cart 35.5" Microwave Cart 3-Tier+4-Tier Kitchen Shelves for Spice Rack Organizer Coffee Station with 10 Hooks, Easy to Assemble (Vintage)
Ample Storage Space: The kitchen bakers' rack has large storage space. The strong top-shelf can easily hold a microwave oven and other kitchen appliances. The 3-Tier+4-Tier shelf can store the...
Multipurpose Kitchen Shelf: Mr. IRONSTONE's kitchen rack protects your health and provides safety. You can turn it into a kitchen storage space shelf, microwave stand, baker's rack, coffee bar, and...
Solid & Durable: The kitchen rack is built from a high-quality P2 MDF vintage board and black metal frame, which offers a large weight-bearing capacity. Moreover, the "X" style design provides greater...
Easy Assembly & Cleaning: You have to assemble the bakers' rack by yourself. All the necessary tools and instructions are included in the package. You can quickly put it together. With a wet cloth,...
What Do You Get: A 3-year warranty, 24/7 after-sales customer support, A kitchen stand, Adjustable feet, Side hooks, Easy-to-follow instructions, A simple installation manual
This is by far the best-rated choice if you're looking for a freestanding kitchen island. It's versatile and good-looking, with three color options that I'm sure will fit any kitchen.
It's very easy to assemble and is pretty compact, so it will fit even the smallest kitchens (the dimensions are 35.5″ by 15.75″ by 52″). The feet are adjustable and you get 10 hooks on the side and a slide-out tray.
But the biggest reason I chose this particular rack is because it has a designated fourth tier for your microwave. It looks very good. Plus, Mr. Ironstone is an established furniture brand.
This is it, hope I was helpful!
G.