If you love fish and are looking for delicious, healthy meals that are quick to make, then you need to try these barramundi recipes.
They're loaded with protein, healthy fats, and are super flavorful.
If you've never had barramundi before, it's a type of flatfish found in the Indian Ocean.
It's firm yet flaky with a slightly firm texture that makes it fantastic for grilling or baking.
It tastes like mild cod but is slightly firmer than any other flatfish.
So if you like fish that can hold its own on a plate with other ingredients, this is your ticket.
From pesto-dotted pad Thai to coconut-glazed bites and even tacos, these barramundi recipes will make a huge hit at the dinner table.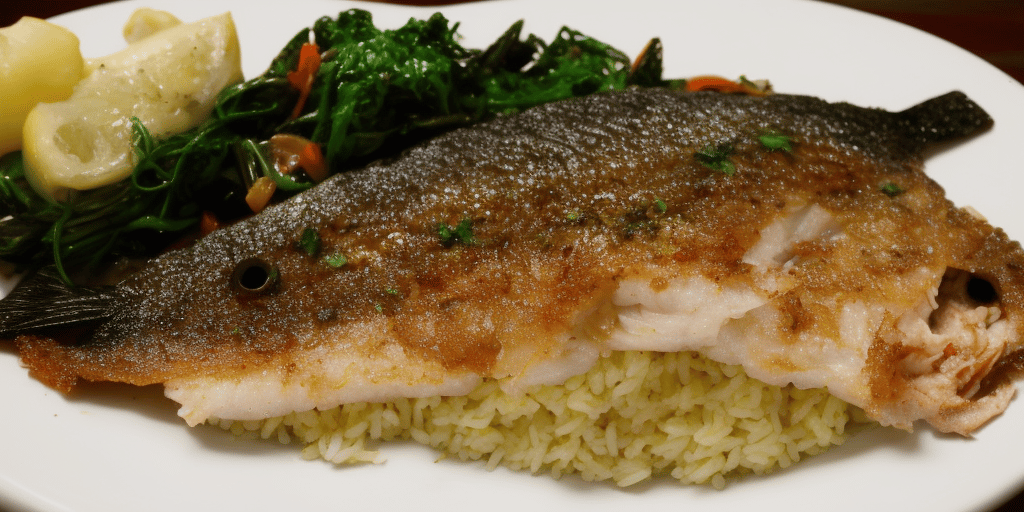 This lemon and garlic barramundi is a breeze to make.
The only thing you'll need is a little time to marinate the fish.
It's perfect with steamed white rice or mashed potatoes, but they also make great side dishes on their own.
And don't forget to add the lemon butter sauce!
If you're looking for a low-carb meal that tastes great, this pan-seared barramundi is the one for you.
The fish cooks in butter and lemon juice until it's flaky and tender.
Then, the sauce coats it with aromatic spices like cayenne, salt, and pepper.
This recipe uses a cheat day ingredient of coconut aminos to create a rich and savory flavor that pairs so well with the barramundi.
You also have to try this healthy dish if you love seafood.
The flavors are light but still full of robust flavor!
I love this recipe because it's quick and easy to make, but the flavors are complex and intensely flavorful.
These oven-baked fish fillets are juicy and tender.
The tomatoes in the tomato butter sauce add a taste that's similar to red wine sauce, only better.
Enjoy as a side dish or serve with grilled chicken for a delicious meal.
You may recognize barramundi in a few different ways.
Some people use it as a jerky, while others enjoy it steamed and sautéed.
Either way, the fish is full of flavor from the buttery sauce and lemon juice.
The brown butter adds a nice smoky flavor that brings out more of the nuttiness in barramundi – without overpowering it!
This recipe is one of my favorites!
I prefer it over the other Asian-inspired recipes because there's more spice to this one.
Plus, it's cooked in a sweet and sticky glaze.
If you don't have time to make your own glaze, try this stuff: cherry tomatoes, sugar, soy sauce, rice vinegar, ginger, garlic (or shallots), and red pepper flakes.
You can adjust the heat to suit your tastes if you like things hotter.
And it will take about 20 minutes from start to finish.
That said, the marinade is what makes this dish so special.
Soak the fish overnight for best results.
And if you have time, be sure to let them rest before serving.
This dish is brimming with flavor and is easy to make using just a few basic ingredients.
The fish itself tastes great, but the citrus salsa really makes it stand out.
It's warm, zesty, and has just enough heat to add a nice kick.
It's ideal for eating as a simple meal or as an appetizer for drinks with friends.
This salad is a combination of juicy mango, tender barramundi fillets, and creamy avocado.
It's the perfect dish for a summer lunch or special occasion.
The flavors contrast each other perfectly, creating a delightful harmony.
If you're looking to impress your guests, this one's for you.
And yes, it's delicious even without dressing!
Baked barramundi is a simple dish that can easily be made at home.
The fish is coated in breadcrumbs and pan-fried until crispy.
Once cooked, it's served with a delicious sauce made of cream, butter, garlic, and parsley.
You can also add different toppings to the plate such as piquillo peppers, tomato slices, and even diced avocado!
Pesto is the perfect seasoning for this pan-fried barramundi with a juicy, succulent coating.
The best part? It's a one-pot wonder that only takes 30 minutes to prepare and cook.
It's so straightforward, you won't need any fancy ingredients or a kitchen helper.
Just toss it all into the pot, and your hands will do the rest.
If you love blackened fish, then you'll adore this recipe!
It will take a little longer than some of the others on this list, but it's so worth it.
This blackened barramundi fish is packed with flavor and has a beautiful sheen.
Prepare the batter for dredging your barramundi pieces and cook until the outside is crispy and the inside is tender.
Serve over rice or noodles and enjoy!
Barramundi is a popular, and affordable, fish.
You can easily grill it with this recipe.
This recipe uses a simple marinade of lemon juice, olive oil, garlic powder, and cayenne pepper to season the fish.
It also cooks up in just 10 minutes on a hot grill.
Serve with fresh asparagus and creamy coleslaw for an easy summer dinner!
This mouthwatering recipe is the perfect choice if you're looking for something light and tasty.
It's packed with protein and rich in flavor.
And then there's the skin! It's so crispy that it practically falls off the fork.
You can have this dish on your table in half an hour.
It sure beats sitting down and waiting for hours to get a dish on the table.
If you're looking for a recipe that has everything, this is it!
This barramundi dish comes together in an instant with the fresh and colorful ingredients.
You can enjoy it immediately or keep it chilled in the fridge for a few days.
It's got a sweet, zingy kick of balsamic and tangy notes from the tomatoes.
The basil adds just a little bit of crunch to balance out all of that goodness.
The final result is an appetizing dish that everyone will love.
Serve it with roasted potatoes and cauliflower rice, or go wild!
This Indian barramundi curry is the ultimate summer dinner.
It's full of flavor and packed with protein.
You'll love how this dish combines an array of vegetables and spices to create a complex meal.
The combination of flavors is irresistible.
Barramundi is a type of white fish that is highly prized in India.
It's often served with steamed rice and dal while enjoying this delicious Indian-inspired recipe.
This sweet, savory, and spicy dish is a real treat on a cold day.
It's best served with steamed rice as an accompaniment.
It's also great for feeding a crowd.
Be sure to keep the bowls full!
But don't worry, there are no hard-to-find exotic ingredients in this recipe.
If you don't have time to make rice, this miso-glazed barramundi is an excellent alternative.
It takes less than 30 minutes to cook and only 4 ingredients.
All it requires is barramundi, miso sauce, garlic powder, and a squeeze of lemon juice.
You can add a few scallions for garnish if you like.
They add a bit of color and herb flavor.
The fish itself tastes great with or without the garnish, but it also tastes even better when they're added!
This recipe is perfect if you want a healthy meal that's also delicious!
The soy-ginger barramundi is brimming with flavor and the potatoes are creamy, meaty, and packed with protein.
Served over a bed of fluffy miso mashed potatoes or broccoli rabe, this is a dish that everyone will love.
Fish tacos are delicious, easy to make, and a guaranteed crowd-pleaser.
This recipe is a quick and easy way to have fish tacos for dinner.
The ingredients are simple and you can prep the seafood in advance.
Be sure to sear your fish for that extra crunch!
Are you looking for a dish that's nutritious and beautiful? Then this coconut and turmeric poached barramundi recipe is the one for you.
The fish is juicy, flaky, and rich in flavors.
Meanwhile, the sauce is creamy with a bit of spice and sweetness.
It's sure to be an indulgence that everyone will love.
There's something about pan-seared fish that just makes me feel like a kid again.
It captures the essence of fresh seafood without the cost of a trip to the store.
Plus, with this recipe, you can make it in one dish and serve it for any occasion!
The fish is perfectly seared on each side before adding some spicy Asian marinade.
This gives it an umami flavor that perfectly offsets the heat from the clams.
Shrimp adds a pop of color while keeping things light and clean.
This recipe is the perfect dinner for a busy weeknight.
It's easy to make, and it's packed with flavor!
You'll infuse veggies and protein into each piece of breaded barramundi.
It doesn't get much better than that.
Serve this delicious dish with some rice or noodles for a complete meal.
This recipe is a fun way to enjoy barramundi.
The cakes are crispy yet tender and loaded with flavor.
They're easy to make, too!
All you need is a few simple ingredients, like flour, egg, breadcrumbs, and a little bit of oil.
How lovely does this look?
This is my favorite way to use scallions and it's so easy.
Just toss them in the food processor, then add pesto!
Just make sure you give them a minute or two for the basil to soften.
It's simple, but it tastes amazing.
These macadamia crusted barramundi fillets are the perfect recipe to add to your weekly meal rotation.
It's easy to whip up and is just as delicious as it looks.
The barramundi is coated in a sweet, crunchy mixture of macadamia nuts and coconut flakes.
The fish is then baked until packed with wonderful flavors and textures.
Your guests will love the combination of velvety soft fish, salty and buttery coconut flakes, and crunchy nuts.
Serve this dish with a side of rice for optimal nutrition!
While the recipe is easy and foolproof, this dish may take a little while to prep.
But the payoff is well worth it.
The barramundi is tender and flaky, and each bite of the succulent fish will melt in your mouth.
Serve with an extra side of roasted vegetables for a complete meal.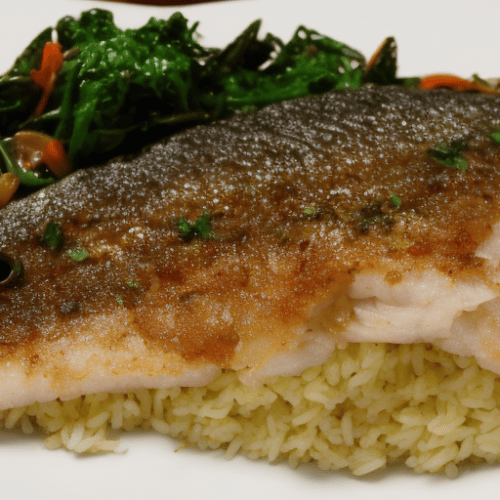 25 Delicious Barramundi Recipes
If you love fish and are looking for delicious, healthy meals that are quick to make, then you need to try these barramundi recipes.
They're loaded with protein, healthy fats, and are super flavorful.
Instructions
Select your favorite recipe.

Organize all the required ingredients.

Prep a delicious shrimp dinner in 30 minutes
---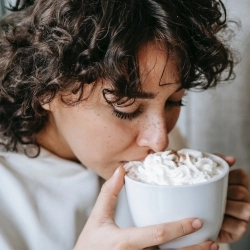 Latest posts by Grace Lambert
(see all)