I decided to put down some pointers on what is the best kind of bread to use in a panini.
This is not rocket science, but if you're confused, I'm here to help.
Plus, I hope I can give you some ideas that haven't considered before.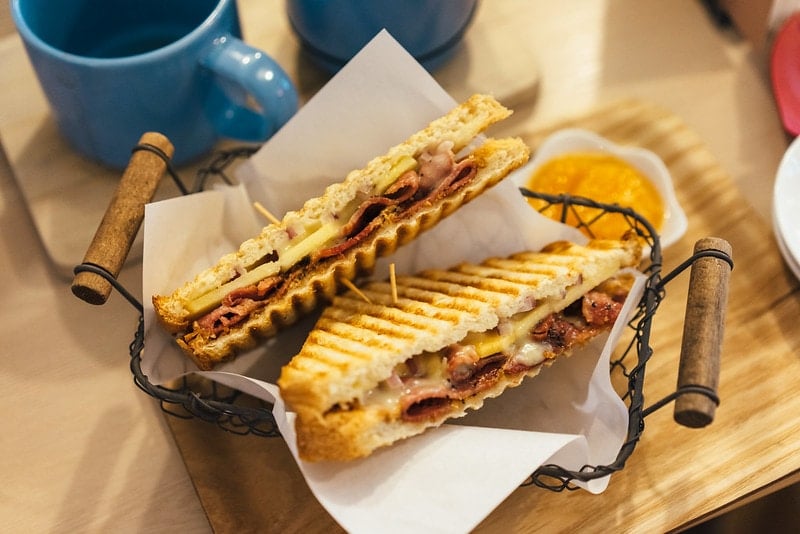 Wet and Dry Panini Sandwiches
Your ideal choice of bread for sandwiches will depend on fillings.
If your ingredients are things such as fatty or moist meats, something like Italian beef, salami, or pepperoni, or will include wet things like tomato, you will need bread that is strong enough to retain its shape.
There are several breads that are ideal for this:
Ciabatta, the Italian bread made with olive oil is certainly the top choice.
The French bread (baguette) is another which makes excellent ''wet paninis.''
Hard rolls will stand up to the pressure of a panini press while holding ''wet ingredients.''
Specialist bread, sometimes known as artisan bread and sourdough can both be used as long as it is cut in thick slices.
Focaccia is another flat Italian bread which you may see has a similar texture to pizzas.
In contrast, dry paninis made from thick cheese or lean meat can be made from a range of other breads:
Brioche which gets its moisture from the eggs and butter in its cooking.
Flatbreads and pitta.
Artisan and sourdough that are not cut as thickly.
Multigrain and rye bread.
Challah which is better with limited pressure is the braided bread common amongst Jewish people.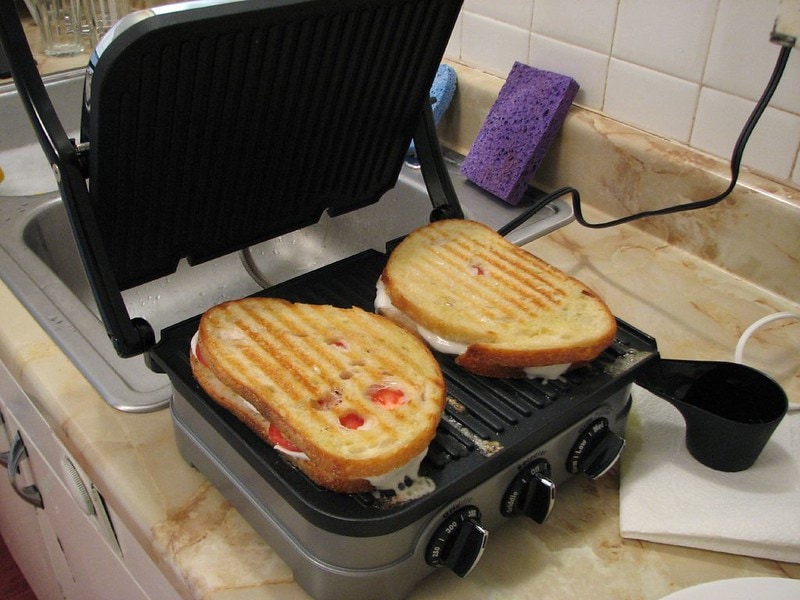 Does it really matter for my panini sandwich?
A little.
The main thing to remember about the bread to use is that it needs to be sturdy enough to take the pressure of a grill press and retain its shape.
Other than that, it's hard to ruin a crunchy panini.
That said, you do not want to open your press to find a panini that has lost its shape and looks like little more than soft mush.
That is something that will often happen if you just take a couple of slices of processed white bread.
It will have the air pressed out of it when you are making a panini leaving you with a thin, crisp-like surface.
This is why you should select a bread based upon its fillings but there are other considerations as well.
One to definitely consider when you select a bread is whether it will compete in flavour with the ingredients you want to savour.
As already mentioned, ciabatta is arguably the most popular panini bread and its olive oil will add flavour to your sandwich.
If you do not want that flavour, look elsewhere among the recommendations listed above.
There are plenty of breads who have limited flavour although if you are thinking of using artisan breads, you need to consider flavour.
Breads to Avoid for Your Leftover Turkey
Pre-sliced white bread has already been mentioned but there is another bread that is not suitable for making paninis.
Forget about using bagels because their hard surface will stop the grill's heat from penetrating into the panini you have prepared.
You will find the centre of your panini is cold when you bite into it.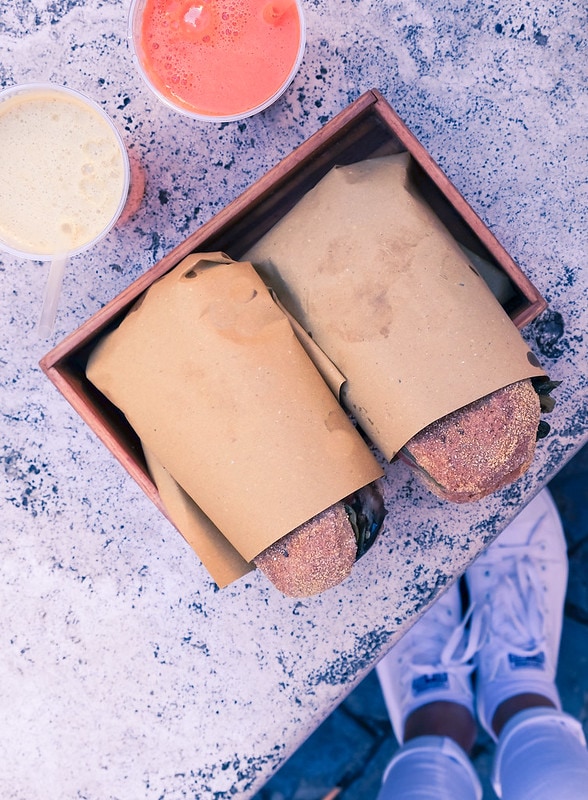 Pro Tips
There's wet and there's too wet. If you're going strong on roasted veggies, try placing dry ingredients like cheese slices between them to retain the form.
If you like that extra crispiness, apply a gentle smear of olive oil/butter/light mayo to the bread before grilling.
In my experience, it's easier to undercook than overcook, so go for longer grilling times.
There is virtually no difference in terms of taste if you use freshly baked bread to make a panini or not, so it's fine even if you go with day old bread. It grills just as well as fresh bread.
Specialist breads are a gimmick. You can use your favorite bread no problem if you keep the rest in mind.
Experiment! People suggest anything from pizza dough, cornbread, banana bread, zucchini (makes a great vegeratian panini) to tortillas and pound cakes! Have fun.
The Jist
Don't forget the main points:
Best bread will depend on the filling to be used – are they dry or wet.
The other main variable is flavour and the bread should not overwhelm the flavours of the ingredients.
If you want to up your panini game, try my pro tips.
Other than that, I think you're set!
Bon Appetit,
G.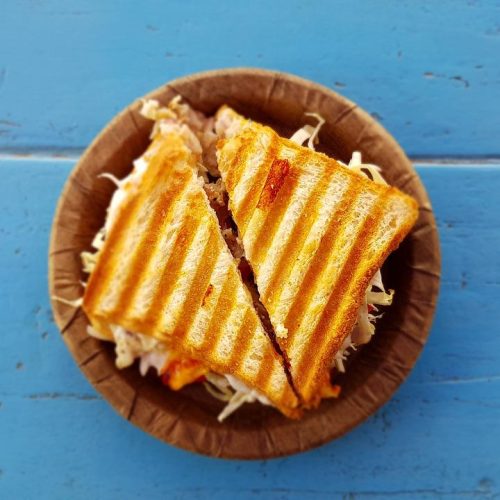 Loaded Turkey Panini
Your leftover turkey from Thanksgiving will taste great in this loaded turkey panini! Put them in the sandwich and broil it until it reaches the ideal golden color.
Ingredients
2

slices

thick, sturdy white or wheat bread

1

tbsp

cream butter

5

slices

turrkey

2

sage leaves

2

teaspoon

cranberry sauce

1

ounce

goat cheese

2

slices

bacon

1

slice

Muenster cheese
Instructions
Heat a panini press or skillet over medium-high heat.

On a plate, put the bread. In between the two slices of bread, put the following ingredients: turkey, sage, cranberry sauce, goat cheese, bacon, and Muenster cheese. Butter should be applied to the outside of each piece of bread.

Transfer to the hot skillet or panini press, pressing gently to ensure that everything adheres to one another. Remove from heat, slice, and serve when the outside is golden brown and the interior is melted and warm.
Video
Nutrition
Carbohydrates:
45.2
g
Protein:
34
g
Cholesterol:
106.9
mg
Sodium:
1398.6
mg
Potassium:
461
mg
Sugar:
16.9
g
Vitamin C:
0.7
mg
Iron:
3.3
mg