For those of you who're not from the Midwest, here's an introduction to Superman ice cream, how it tastes like (is it three tastes or one), where to find it, and where it comes from.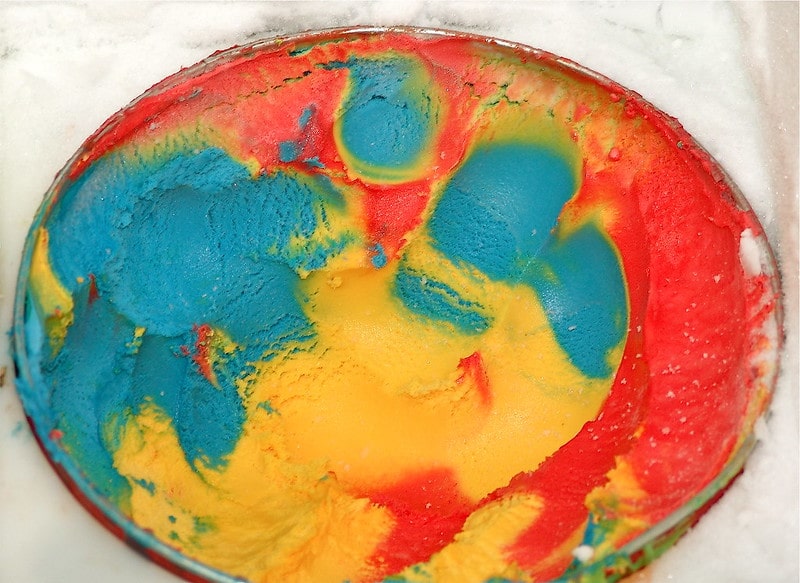 What is the Superman Ice Cream?
We all know the DC Comics hero. Superman Ice Cream is simply ice cream of three intertwining colors: red, blue, and yellow, which are Superman's signature colors.
History
There's actually quite a bit of interesting history behind the three-color ice cream. It's said to originate from the Stroh Brewing Company in Detroit, Michigan.
Under the Prohibition in the early 1920s, the brewery's owner Julius Stroh struggled to come up with a new offering that would keep him afloat.
In the end, he rebranded his brewery into what he called Stroh Products Company and started selling ice cream, soft drinks, birch beer, and malt products. The tricolor flavor was created by the Stroh Ice Cream Company, however, at the time, it was not called after Superman since the comics were released a decade later.
After the Prohibition ended, the company went back to producing beer, but the unique ice cream flavor became popular across the Midwest, and, after the Superman comics were released and got universal acclaim, the ice cream was named after the superhero.
Due to DC Comics' licensing though, you can only find it under the names "Scooperman", "Super Scoop", or "Super Hero". The official name was later established as "Super Rainbow". However, colloquially it is most widely known as Superman ice cream.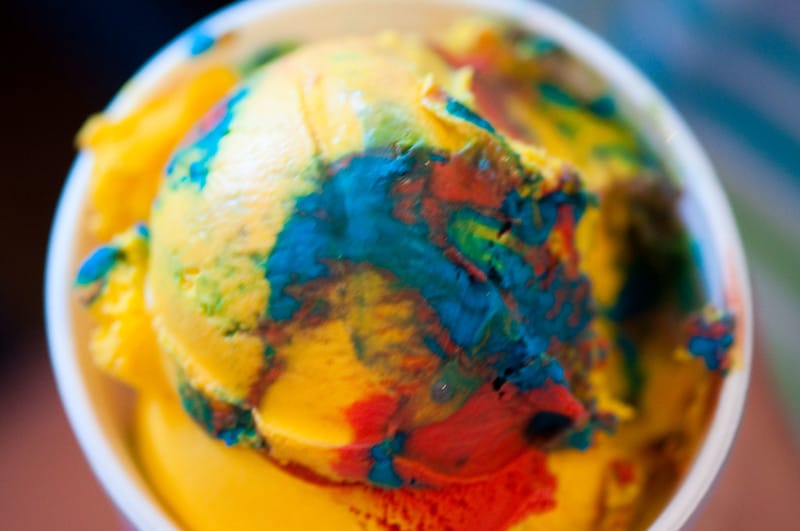 Flavor
It's not just vanilla ice cream with different colorings, it's three different flavors combined. The actual flavors though differ from store to store, or even from region to region:
| | |
| --- | --- |
| Color | Flavor |
| Red | Black cherry, Cherry, Raspberry, Strawberry, or Red Pop |
| Blue | Blue Moon, a flavor popular in the upper Midwest. The taste is somewhere in the middle between bubblegum and marshmallow. |
| Yellow | Vanilla, Lemon, or Banana. |
Flavor Variations of Superman Ice Cream
Essentially, the Superman ice cream is Fruit loops in the form of ice cream.
Where to Get Superman Ice Cream
If you're in the States, you can get it in several places, predominantly in the Midwest:
| | | |
| --- | --- | --- |
| Place | Name | Flavors |
| Stroh's | Super Rainbow | Lemon, Blue Moon, and Red Pop |
| Meijer's Store | Scooperman | Vanilla, Black Cherry, and Blue Moon |
| House of Flavors | | Lemon, Cherry, and Blue Moon |
| Hudsonville Creamery & Ice Cream Company | SuperScoop | Vanilla, Black Cherry, and Blue Moon |
| Chocolate Shoppe Ice Cream Company | | Vanilla, Blue Moon, and Cherry |
Get Superman Ice Cream in the US
For those from Canada, you can find the ice cream here:
| | | |
| --- | --- | --- |
| Place | Name | Flavors |
| Laura Secord Chocolates | SuperKid | Banana, Strawberry, and Blueberry |
| Scooper's Ice Cream Treats | Super Hero | Banana, Strawberry, and Blueberry |
Get Superman Ice Cream in Canada