Cantaloupes are delicious melons.
They're juicy and sweet, which makes them perfect for eating fresh out of the garden or picking up at farmers markets.
But what happens when they get a little too ripe?
While most people don't need to worry about cantaloupe getting overripe because they'll just go bad, there are some situations where you may want to avoid buying this fruit.
In this article, we're going to look at how to tell if a cantaloupe is bad, as well as all the signs that it might be rotting.
We'll also take a look at how long a cantaloupe lasts, and what its shelf life is.
How can you tell if a cantaloupe is bad?
There are several ways to tell if a cantaloupe has gone bad.
One of the easiest is to check the color.
If it's dark green with yellow patches, then it's probably still good.
However, if it's light green or even white, then it's likely rotten.
Another sign that a cantaloupe is bad is that it doesn't have any juice in it.
When it's ripe, the cantaloupe should have a lot of juice coming from the rind.
A cantaloupe that has no juice is not very appetizing.
You can also test the texture of a cantaloupe by squeezing it.
If it's firm but squishy, then it's fine.
However, if it feels like it's going to rip apart easily, then it's likely spoiled.
You can also give it a sniff. If it smells strongly of vinegar, then it's likely rotten.
Finally, you can try cutting into a cantaloupe.
If it's soft and mushy, then it's likely rotten.
It should also be easy to cut into.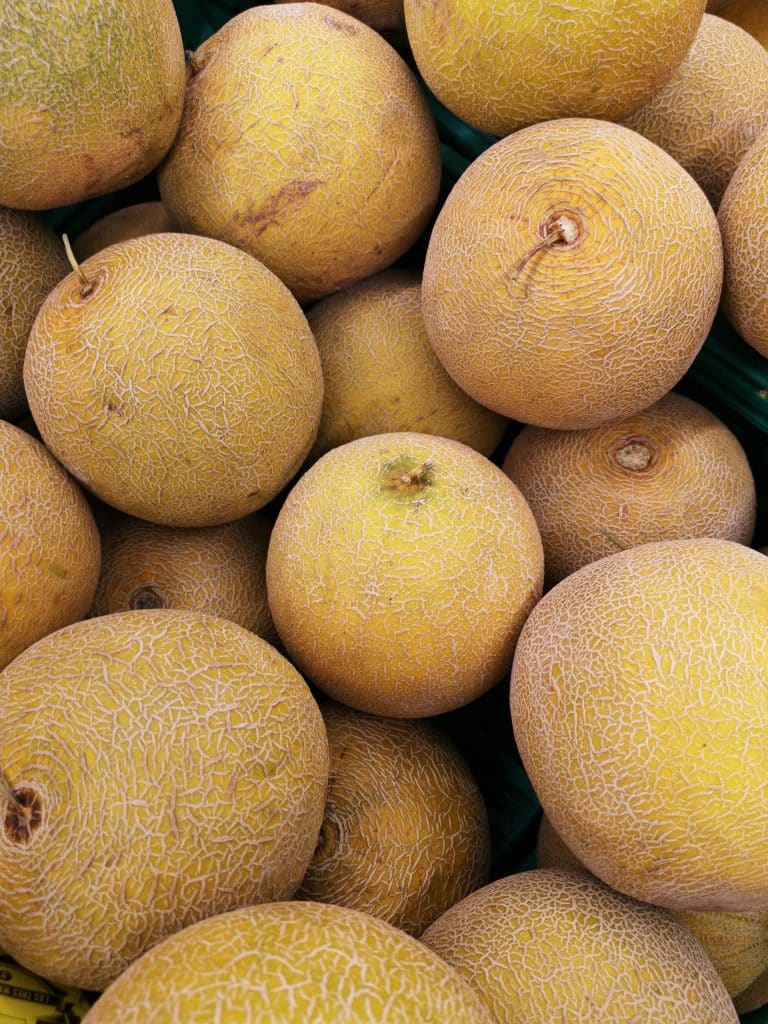 What are the signs that a cantaloupe is going bad?
A cantaloupe that is starting to rot is usually pretty obvious.
Here are some of the signs that you can watch out for:
The skin starts to turn brown and dry
The flesh starts to soften
Seeds start to sprout
It smells bad
1. The Skin Starts to Turn Brown And Dry
When a cantaloupe goes bad, the skin starts to dry out.
This means that the outer layer of the fruit is turning hard and brown.
As it continues to ripen, the skin becomes thicker and tougher until it reaches a point where it's almost impossible to peel off the fruit.
2. The Flesh Softens
As the cantaloupe continues to ripen, the flesh starts to become mushier.
This means that the inside of the fruit is beginning to lose moisture, causing it to shrink and become softer.
Once the flesh gets to this point, the cantaloupe is ready to eat, but you won't enjoy it much.
3. Seeds Start to Sprout
As the cantaloupe continues to ripen, the seeds begin to grow.
This is why you often see some of these fruits sprouting out of the ground when they've been left on the vine too long.
But once the seeds sprout, it's time to pick them up and put them back in storage.
4. It Smells Bad
Once the cantaloupe begins to rot, the smell is one of the first things that you notice.
It might smell like vinegar or even ammonia.
These odors are caused by bacteria that have begun to grow on the surface of the fruit.
Once the bacteria start growing, the cantaloupe is ruined and needs to be thrown away.
How long does a cantaloupe last?
Most cantaloupes will keep for about three weeks.
This is a general rule of thumb, however, so you shouldn't expect to find one that's perfectly ripe every day.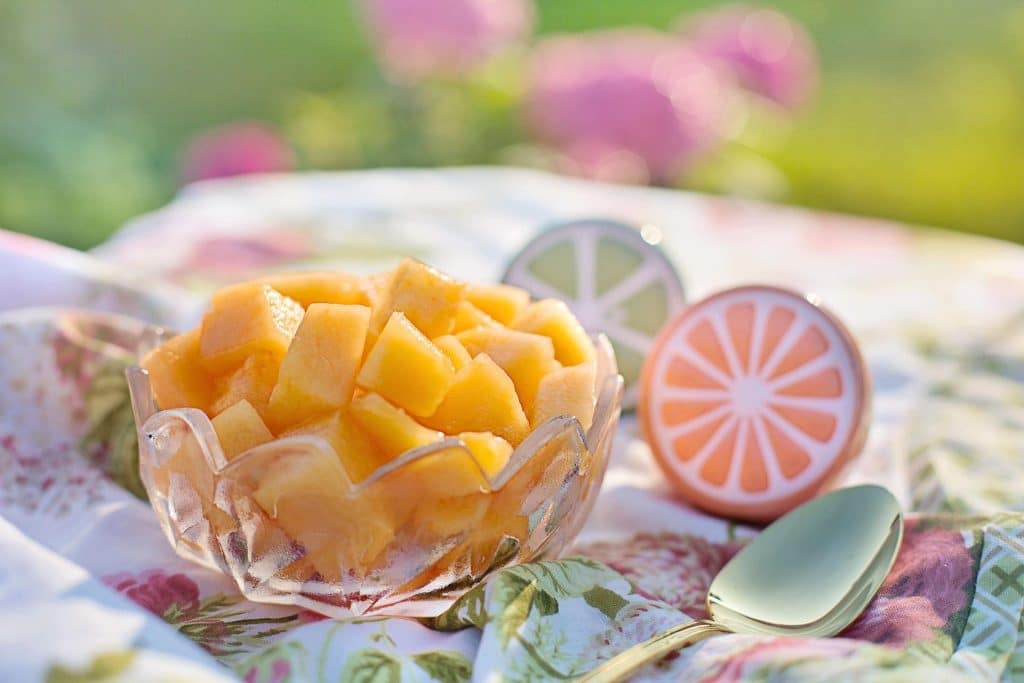 What is the shelf life of a cantaloupe?
Shelf life is the amount of time that a product can stay fresh before it starts to degrade.
For example, an avocado can typically last two weeks after being picked.
But once it's been refrigerated, it only has about five days of shelf life.
This is because the cold slows down the rate at which food spoils.
So, if you buy a cantaloupe that's slightly under-ripe, it will last longer than one that's fully ripe.
However, once it begins to spoil, it will continue to deteriorate until it's completely unusable.
So, if you plan to use your cantaloupe within a week of buying it, make sure it's really ripe.
How do you store a cantaloupe?
To make sure that your cantaloupe stays fresh, you should store it properly.
Ideally, you should place the fruit in the refrigerator immediately after purchasing it.
Then, you can leave it there for a few days.
After that, you can move it to the fridge again, although you might want to rotate it around to help ensure that it's kept cool.
If your cantaloupe isn't in the fridge, then you can wrap it in plastic and put it in the crisper drawer of the refrigerator.
Make sure that the fruit is covered with water, though, so that it doesn't dry out.
Don't leave your cantaloupe in the sun either.
This can cause damage to the fruit, especially if you live somewhere hot and humid. Instead, store it in a cool, dark area.
Can you freeze cantaloupe?
Yes!
While you can't freeze a ripe cantaloupe, you can freeze a partially ripe one.
Just place it in a freezer bag, seal it tightly, and let it sit for 24 hours.
Once it's defrosted, you can use it like you would any other frozen fruit.
How do you tell if cantaloupe is ripe?
One of the best ways to determine whether or not a cantaloupe is ripe is to taste it.
When it's ripe, the fruit will be sweet and juicy, rather than tart or bitter.
You can also tell if it's ripe by checking the color.
If it's dark green with yellow patches, then it's still fine.
If the fruit is light green or even white, however, then it's likely rotten.
What is the best way to eat cantaloupe?
Cantaloupe is delicious eaten raw, either sliced or cubed.
You can also steam it, roast it, or bake it. It can even be mixed into salads or used as a topping for tacos.
How do you clean a cantaloupe?
You can wash a cantaloupe right after you purchase it.
Just wipe the outside of the fruit with a damp cloth and rinse it under running water.
If it's dirty, you can scrub it with a vegetable brush dipped in warm water.
Then, pat the fruit dry with paper towels.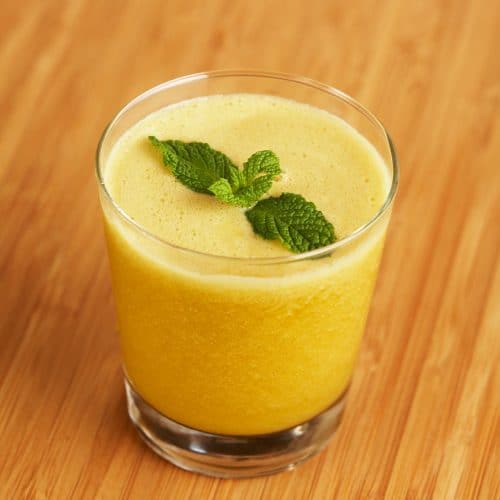 Cantaloupe Juice
Cantaloupe juice is a refreshing and healthy summer drink
Ingredients
1

cantaloupe

1/4

teaspoon

salt

Juice of 1 lemon

1

cup

water

1/2

cup

sugar

1

teaspoon

vanilla extract
Instructions
Making cantaloupe juice is easy! You need a ripe cantaloupe, lemon juice, water, sugar (optional), and vanilla extract.

First, cut the cantaloupe in half and remove the seeds. Then, use a blender or food processor to puree the fruit until smooth.

Next, add the salt, lemon juice, water, sugar (if using), and vanilla extract to the blender or food processor and blend again until everything is combined.

Pour the cantaloupe juice into glasses and enjoy! You can also add ice to the juice if you like.
Video
Nutrition
Calories:
292
kcal
Carbohydrates:
73
g
Protein:
2
g
Fat:
1
g
Saturated Fat:
1
g
Polyunsaturated Fat:
1
g
Monounsaturated Fat:
1
g
Sodium:
380
mg
Potassium:
437
mg
Fiber:
2
g
Sugar:
72
g
Vitamin A:
9334
IU
Vitamin C:
30
mg
Calcium:
29
mg
Iron:
1
mg
---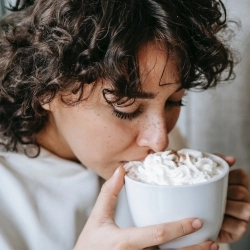 Latest posts by Grace Lambert
(see all)